Photo Gallery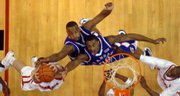 KU vs Nebraska
Lincoln, Neb. — Plenty of college freshmen would take the night Nebraska's Ryan Anderson had Monday against Kansas University in a heartbeat.
The freshman guard, who came into the game averaging 10.8 points per game, fired off three-point bomb after three-point bomb en route to a 19-point night, tying his second-highest total this year.
But the first half was so bad for the Huskers as a whole, even six treys couldn't cover up the disgust Nebraska felt after a 76-56 home loss in front of a national television audience.
"That doesn't mean anything to me," Anderson said. "I want to win."
Any chance of that happening went out the door quickly for Nebraska, which between the 16:09 and 2:26 marks in the first half didn't score a point. And even after Jay-R Strowbridge's leaner in the lane gave the Huskers their seventh and eighth points, KU scored four more points to move ahead 43-8 - a deficit nothing short of insurmountable.
"I was trying to talk them through it, talk about the defensive side of things," first-year Husker coach Doc Sadler said. "I know we had a long scoring drought, but the thing is, I don't think we had a guy on our team that was not intensely trying to score."
Audio Clips
2006-07 Jan. 29 KU-NU Hoops
Nebraska certainly didn't help itself with offensive rebounds, however. The 26-rebound margin Kansas held after the game was the worst Nebraska had faced all season, and the Huskers were held to just one - yes, one - offensive rebound all night. In return, the 27-0 scoring run KU executed during that first-half drought was so bad, the only recent run by an opponent that came close was a 26-0 run Texas Tech drilled into Nebraska back in 2003.
Sadler was right about his team's still-aggressive nature during the drought, though, as the Huskers went 0-for-14 in that stretch, including an 0-for-9 showing from beyond the three-point arc. Sadler hinted, though, the reason for his team's shots not falling may have been a lack of confidence and even a bit of intimidation.
"What can I say?" he said. "I mean, obviously, we all know Kansas is a good basketball team, but it's more than that. I thought we were ready to play somebody like that. I didn't know if we could win the basketball game, but I thought we could compete. And the fact of the matter is we were scared, and I don't know why."
Copyright 2018 The Lawrence Journal-World. All rights reserved. This material may not be published, broadcast, rewritten or redistributed. We strive to uphold our values for every story published.