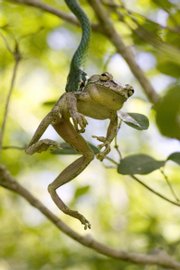 Washington — Rick Stanley can't remember a time when he didn't love nature - prowling around in the forest and learning about animals. But he definitely remembers his first camera, which was given to him by his mom when he was 8. That gift allowed Rick to turn his love of nature into award-winning photography.
Rick, now 17 and a student at Georgetown Day School in Washington, was named Young Wildlife Photographer of the Year for 2006. The annual competition is held by the Natural History Museum in London and BBC Wildlife Magazine.
His winning photograph, selected from more than 750 entries by kids 17 and younger, shows a tree frog in the Dominican Republic about to be eaten by a snake. Rick had been exploring with a friend when they heard the frog's squeaks of distress.
"I photographed the drama as the frog dangled in front of me, but Rubio (his friend) was unable to resist helping the victim and gently touched the snake, which promptly dropped its meal and slithered away," Rick wrote in describing his photograph.
Rick said he felt sorry for the frog, too, and was glad to see it get away. But "if I had been on my own, I probably would have left it alone."
That's because Rick thinks that one of the most important lessons a nature photographer can learn is to let nature be nature. "Try not to disturb what you photograph too much," he says.
While some photographers set out knowing what they want to take a picture of, Rick has a different approach. "I like to be ready for whatever I happen to see," he says. "Whenever you go out into the woods, you're going to see something interesting."
Preserving nature is important to Rick, a Bethesda, Md., resident who plans to study biology at Harvard University in the fall. But he doesn't plan on giving up photography. I want to do (biology) work in the field and take photographs," he says.
Rick has seen the other award-winning photographs, which are on display through Sunday at the National Geographic Museum at Explorers Hall in downtown Washington. "It's really amazing. It seems that every year they get better photographs, especially from the younger photographers," he says. "I almost feel guilty beating some of their pictures."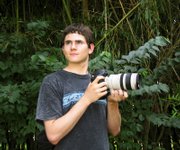 Snap to it
Rick Stanley, 17, of Bethesda, Md., has been photographing nature for nine years. He has some tips for young photographers:
¢ Take pictures. It sounds silly, but "practice is really the best way to get good at this," Rick says. He started out "just taking pictures to document nature, but then I got into the more artistic side of it."
¢ Nature is everywhere. "There's lots of interesting stuff locally to photograph. ... Some of the best pictures are of common things that most people overlook."
¢ Learn about your subjects. Having "knowledge of (what) you're photographing helps you notice things about them."
¢ Never try to pose an animal. "Pictures where the subject is stressed-out never work. (Getting a good picture) is never worth harming or disturbing the subject too much."
Copyright 2018 The Lawrence Journal-World. All rights reserved. This material may not be published, broadcast, rewritten or redistributed. We strive to uphold our values for every story published.