It was the 1970s in Lawrence, and a young black man who pumped gas at one of the local filling stations asked his boss for a day off to attend to family matters.
He got that day off and several more. When he returned to work the next day, he was told his services were no longer needed.
The young man turned to Rehelio Samuel, the city's director of human relations, the city department that investigates complaints of discrimination and civil rights abuses.
"I said, 'No problem, let's see what we can do about that,'" Samuel recalls. "But I also told him he was a smart young man, and I didn't know why he was settling for this job."
After chatting with the employer - whom Samuel declined to name - the young man had his job back. Eventually, Samuel was able to get the young man signed up in a local union to become an electrician.
That's the type of work that Samuel has been doing for the past 34 years. Samuel - who is the city's longest-serving department head - will retire Wednesday.
"It has been a long, hard ride, but it has been a good ride," said Samuel, 74, who is retiring to spend more time with a family member who has a serious illness.
Today, Samuel's department investigates complaints from people who think they have been discriminated against in matters related to housing, employment or public accommodations. But several in the community said he also spent as much time educating and promoting good will as he did investigating.
"He was among the first two people in this town to welcome me as a black entrepreneur in this community," said Marian Brown, who opened a beauty salon in Lawrence in the late 1970s. "I think he has really created the groundwork to make Lawrence a better place."
Times of turmoil
There was a time when that young black man - whom Samuel also declined to name - didn't have a place in city government to turn.
"There was definitely a time when minorities felt like they had no place to go, and as a result, there was a lot of incidents out on the street," Samuel said. "Now, there clearly is a place to go."
After retiring from a career in the Air Force, Samuel became the city's human relations director in June 1972. That was just two years after a tumultuous 1970 in Lawrence that included frequently violent protests of the Vietnam War, militant black student groups who had armed themselves and an intentionally set fire at the Kansas Union that caused more than $1 million in damage.
The year came to a head with the shooting death of a 19-year-old black man, Rick Dowdell, who was killed by police as part of an altercation. The death sparked a rash of firebombings and shootings across Lawrence, and fueled a disturbance just four days later that resulted in the random shooting death of Nick Rice, a white 18-year-old Kansas University freshman.
"When I came here, I saw this was a community in turmoil," Samuel said. "It was a place that needed help in coming together, and the good news is that it did."
Future uncertain
Samuel's first order of business was to write an ordinance that spells out what constitutes illegal discrimination in the city. It included discrimination based on race, age, religion, familial status and disability, and later was expanded to include a person's sexual orientation.
Samuel estimates that his office receives approximately 3,000 informal complaints each year. Many of those are resolved by making a few phone calls to the parties involved or are determined to be personal disputes that don't involve a violation of the city's civil rights laws.
About 50 of the complaints, however, become the subject of formal investigations. With formal investigations, Samuel makes a finding by determining whether there's probable cause to take the offending party to court, a ruling that is made in about 40 percent of the cases.
But actual court cases are rare. Samuel said he only recalls two cases in the nearly 35 years he's been in the office. A handful of others have had a formal public hearing before the city's Human Relations Commission. The vast majority, though, are settled when Samuel and his staff mediate a discussion between two parties.
Samuel said that ends up being the best use of his staff's time, and it also usually results in a process that educates both parties about civil rights laws and responsibilities.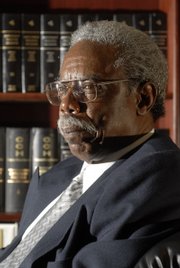 "Our purpose isn't to hammer someone over the head," Samuel said. "It is to make this a better place. That's what got me into this business, and that's what kept me in it for so long."
City Manager David Corliss applauded Samuel's work.
"Rehelio gets credit in part for the tolerant and diverse community that we enjoy today," Corliss said. "He has been a zealous and effective advocate on behalf of civil rights in our community and our region. He really leaves a lasting legacy to the community."
But Corliss said he would review the department's functions before advertising for Samuel's replacement. He said he would not rule out merging the department with another city department if it made things more efficient.
"The City Commission and myself are both committed to ensuring that the mission of the department continues to be achieved," Corliss said. "Whether it is through its own department or through a different structure is what we have to determine."
Corliss said he would make that review in the next one to two months. But he said he had no interest in eliminating the functions of the department and turning enforcement and education efforts over to various state agencies that also fight discrimination.
"I haven't heard any interest in saying that we want to repeal our ordinance and let the state handle these functions," Corliss said. "That is something I would recommend against."
Copyright 2018 The Lawrence Journal-World. All rights reserved. This material may not be published, broadcast, rewritten or redistributed. We strive to uphold our values for every story published.