Nebraska big man Aleks Maric did not score in the first half and finished with just nine points off 3-of-8 shooting with seven rebounds in Kansas' 76-56 rout of the Cornhuskers on Monday.
He also didn't score in the first half Saturday at Kansas State, scoring 10 points with nine rebounds in a 61-45 defeat.
"He had a couple of fouls early that helped us. We defended him well the first half," KU coach Bill Self said.
"We were trying to cut the head off and attack Aleks," Brandon Rush said. "He played really well the second half."
¢Rush on Wooden list: Rush has been named to the 30-player Wooden Award Midseason All-America Team.
Made up of the top 30 players who will compete for this season's player-of-the-year award, the midseason list is based on individual player performance and team records during the first half of the season.
The others who are on the list: Aaron Affalo, UCLA; Morris Almond, Rice; Mario Boggan, Oklahoma State; Corey Brewer, Florida; Aaron Brooks, Oregon; Glen Davis, LSU; Jared Dudley, Boston College; Kevin Durant, Texas; Nick Fazekas, Nevada; A.J. Graves, Butler; Aaron Gray, Pittsburgh; Taurean Green, Florida; Tyler Hansbrough, North Carolina; Jarrius Jackson, Texas Tech; Dominic James, Marquette; Acie Law, Texas A&M; Chris Lofton, Tennessee; Josh McRoberts, Duke; Randolph Morris, Kentucky; Drew Neitzel, Michigan State; Demetris Nichols, Syracuse, Joaquim Noah, Florida; Greg Oden, Ohio State; Sean Singletary, Virginia; Curtis Sumpter, Villanova; Al Thornton, Florida State; Alando Tucker, Wisconsin; Marcus Williams, Arizona; and Brandan Wright, North Carolina.
Audio Clips
2006-07 Jan. 29 KU-NU Hoops
Players not on the midseason list still can make the final ballot, which comes out in March.
¢Big Monday talk: First-year NU coach Doc Sadler was appreciative his Cornhuskers were awarded a rare appearance on ESPN's Big Monday.
According to the Omaha World-Herald, the last time the Huskers played as part of the true Big Monday package on ESPN was at Kansas in 1996, and the last time at home was against Missouri in 1994.
The Huskers played one Monday game in 2000 and 1997 on ESPN2. The game in 2000 was a 62-54 loss to Oklahoma in Devaney Center.
"It cannot do anything but help us down the road because kids watch it," Sadler said. "There are a lot of teams that have never been on Big Monday. It's an honor to be chosen to play on it. We need to take full advantage of it (in recruiting)."
"You always think it would be great to coach in one of those games," Sadler said. "You get the opportunity, and it's against Kansas, you say, 'Wow, be careful what you wish for.'''
Photo Gallery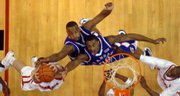 KU vs Nebraska
¢Not true: Sadler on the Jayhawks allegedly playing to the level of their competition. "I think that's a knock," he said. "I don't think that's necessarily true. I think they're so talented, they make it look easier than what it is. It's like people going to NBA games and saying they don't play very hard. Well, I don't think that's the case. I think they're so good, that it makes it look easier than it is."
¢Recruiting trip: Self and assistant Joe Dooley didn't spend Saturday night celebrating KU's win over Colorado.
They hit the recruiting trail.
It was off to Kilgore, Texas, to watch a game of Marcus Thornton, a 6-foot-3, 190-pound guard from Kilgore College.
He's considering KU, Kansas State, LSU, Memphis, Mississippi State, Nebraska, Oklahoma, Oklahoma State, Southern California, Tennessee, Texas A&M; and others.
Thornton scored 22 points Saturday off 8-of-17 shooting in a losing cause.
"Marcus is just trying to graduate and win as many basketball games as possible," Kilgore coach Scott Schumacher told Rivals.com. "I would imagine that Marcus will wait until the end of the season before he does anything," he added of the player who has already made visits to KU and Kansas State and has yet to decide if he'll make any more.
Copyright 2018 The Lawrence Journal-World. All rights reserved. This material may not be published, broadcast, rewritten or redistributed. We strive to uphold our values for every story published.