Paris — The planet's temperature is rising, sea levels threaten to swallow coastlines and the world's residents want to know how much to be afraid. An authoritative answer comes this week.
Some 500 scientists and officials convened Monday in Paris for a week of word-by-word editing of a long-awaited report on how fast the world is warming, how serious it is - and how much is the fault of humans.
The report by the Intergovernmental Panel on Climate Change, to be released Friday, could influence what governments and businesses do to fight global warming. It will be watched closely in the U.S., whose government stands accused by many around the world of playing down the peril.
Scientists are keeping quiet about the report's contents, but say it is both more specific and more sweeping than previous efforts to chart hotter summers, snowless ski seasons and breakaway ice sheets and what they mean for the Earth's future.
"At no time in the past has there been a greater global appetite" for reliable information on global warming, the panel's chairman, climatologist Rajendra Pachauri of India, told the conference.
The report is expected to warn of continued temperature rises through the century and reiterate that people-created pollution is partly to blame.
But debate may arise at the closed-door meetings over how much sea levels are rising.
Early drafts of the paper foresaw smaller sea level rises than the last report, in 2001. But many top scientists reject the new figures, saying they are not new enough: They do not include the recent melt-off of big ice sheets in two crucial locations - Greenland and Antarctica.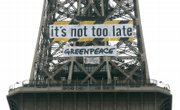 Many fear this melt-off will mean the world's coasts will be swamped much earlier than thought. Others think the ice melt is temporary and won't play such a dramatic role.
During the meetings, science and politics will converge as climate experts work with diplomats to finalize the wording of the panel's report, the first of four major documents on global warming it is scheduled to release this year.
This week's meetings are not addressing how to tackle global warming. That will be the subject of one of the panel's other reports later this year.
"We're hoping that it will convince people that climate change is real and that we have a responsibility for much of it, and that we really do have to make changes in how we live," said Kenneth Denman, one of the report's authors.
Copyright 2018 The Associated Press. All rights reserved. This material may not be published, broadcast, rewritten or redistributed. We strive to uphold our values for every story published.