Lincoln, Neb. — Brandon Rush knew beleaguered Kansas University basketball teammate Julian Wright would play inspired basketball Monday night.
"He was walking around the hotel saying he was gonna go into 'Beast Mode,'" Rush said of Wright's demeanor Monday morning in a hallway of the Cornhusker Marriott. "He did. He sparked the whole team."
Wright, who was ridiculed on ESPN's "Pardon the Interruption" show Monday for his botched breakaway slam-dunk try in Saturday's home rout of Colorado, scored KU's first eight points and finished with 17 in the Jayhawks' 76-56 victory over Nebraska in Devaney Center.
Wright scored 13 points and Rush 12 in KU's amazing 43-8 game-opening run.
"It happens. It comes and goes," Wright said of 'Beast Mode.' "It's just focus, being aggressive but playing within the system."
Wright, who hit five of 10 shots and six of six free throws in 26 minutes, said he wasn't trying to make up for the botched slam in the CU game.
"I am not big on that. You make good plays, and you make bad plays," Wright said. "I've been practicing pretty well. I was ready. I was in position to make baskets. We were able to penetrate and pitch out tonight."
Photo Gallery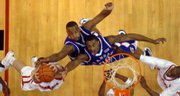 KU vs Nebraska
Rush, who finished with 20 points off 7-of-13 shooting, said his buddy Wright wasn't devastated by all the attention the botched CU slam received in the press.
"He was laughing about it," Rush said.
KU coach Bill Self, who credited Wright for helping the Jayhawks storm to the early, insurmountable 35-point lead (KU led 43-16 at halftime and was never threatened), said Wright had nothing to prove Monday.
"The media and everybody else makes a big deal out of him making a bad play," Self said. "Saturday wasn't tough. You guys probably made it tougher than what it was."
Wright had seven rebounds on a night KU outboarded the Huskers, 47-21, but he wasn't perfect.
His flashy no-look pass that resulted in a dunk on the other end cost him the final nine minutes of playing time. Yes, he was removed from the game with 9:09 left and KU up, 70-44, never to return.
Audio Clips
2006-07 Jan. 29 KU-NU Hoops
"We harped on all our guys. I will not talk (just) about Julian," Self said. "Basketball is more fun to play and for people to watch when you make easy plays. It's my opinion, and I don't think I'm going to change much."
Wright accepted the discipline.
"Coach stresses making the easy pass. I have to learn from that and value the ball better," Wright said.
Self also yanked Rodrick Stewart late for trying an ill-advised spectacular one-handed slam that clanged.
"I didn't think there was a play there to be made," Self said. "I have a hard time letting things go. It's how I coach and always will coach."
Those two glitches came on a near-perfect night.
KU in the first half had a 27-0 run. The Huskers didn't score a field goal from 16:09 to the 2:26 mark. Jay-R Strowbridge finally ended the drought with a hoop "cutting" the gap to 39-8.
"The first 17 minutes, the crowd was quiet," Rush said. "They were happy they made a shot at the end. They were cheering, going crazy for no reason. I thought it was funny."
It was so lopsided KU's fans were doing the "Rock Chalk Chant" early in the second half, though NU woke up and actually outscored the Jayhawks by 15 points after KU had built the 35-point advantage.
NU outscored KU, 40-33, the second half.
"We played great early. It's as well as you can execute. It's about the best 17 minutes a team can play or we can play," Self said.
"We ran well, did a lot of things well. Then we lost a little focus. Our guys were loose, and Nebraska played hard and shot well the second half."
Darrell Arthur hit five of seven shots and joined Rush and Wright in double figures with 12 points and seven rebounds. Sherron Collins hit one of four threes on a night KU made eight of 21 to NU's 11-of-25 and finished with nine points.
NU's leading scorer, Aleks Maric didn't score in the first half and finished with nine points and six boards.
KU (19-3 overall, 6-1 Big 12) returns home to meet Texas A&M; in an 8 p.m. tipoff Saturday. Nebraska fell to 12-8, 1-5.
Copyright 2018 The Lawrence Journal-World. All rights reserved. This material may not be published, broadcast, rewritten or redistributed. We strive to uphold our values for every story published.