It was a shoddy shooting night for both Seabury Academy basketball squads against Williamsburg on Monday. The only thing was, the Seabury girls still came away with a 41-24 victory, while the boys team lost, 57-41.
"It was a rough night," Seabury girls coach Nick Taylor said, noting the Seahawks' 27.4 field-goal percentage. "We had plenty of looks. We just didn't convert them. ... We were close almost all the time. We had inside shots, which is what I wanted our team to do."
Although the shots weren't dropping for the girls, the rebounds were plentiful. The Seahawks racked up 69 boards, with 24 coming at the offensive end of the court.
Once again, Melissa Burch was cleaning the glass down low for Seabury. Burch had a game-high 26 rebounds - 17 on offense.
"I don't ever really distinguish between offensive and defensive - I just rebound," said Burch, who also had a game-high 17 points. "I just rebound, and I don't really care where it is."
Fellow post player Molly Thurman also finished with a double-double, pulling down 16 boards to go with 12 points.
Though Seabury won by a 17-point margin, it was ahead by only three at the intermission, 18-15. Nineteen turnovers prevented the Seahawks from putting any distance between themselves and the Panthers.
"It was a tale of two halves with that," said Taylor, whose team bounced back in the second half, turning the ball over only three times. "It was unbelievable how we came out (at the start). We were dead, and we didn't take care of the ball. We were rebounding and stuff, but we just didn't take care of the ball. And when you turn the ball over that much and give them even more opportunities, it's obvious you're going to be close or down. ... If we had put together two (good) halves, it would have been a really good win for us."
It was a frustrating second half for boys coach Matthew Downing Jr.
Going into the break with a 26-23 advantage, Downing had a simple game plan for the final two periods: Get the ball to Scott King in the post.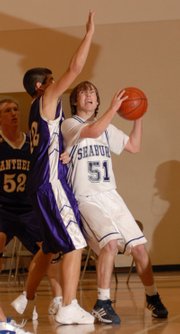 "We hit a couple of threes, and I could just see we were relying on the three-point shot too much," Downing said. "So I told them at halftime, 'Let's go inside.' There were three guys with two fouls on their team at halftime. And what do we do? Came out and shot four three-pointers the first four possessions."
King, who had nine points on 4-for-9 shooting in the first half, attempted only three shots in the third quarter. He also put up seven shots in the fourth, but two of them were much-
needed three-point attempts late in the game.
The shooting dropped off for the entire team in the second half, as the squad shot worse than 19 percent from the field on 6-of-32 shooting. Seabury was 16-for-60 for the whole game, a field-goal percentage of 26.7.
"It's one thing to play the game. It's another thing to understand the game," Downing said. "The shooting part - I know that we shoot a lot, so I'm really not concerned about percentages. I just want us taking good, quality shots. The most frustrating part for me is saying something and not having it done on the floor.
"I felt like we took a step back late in the second quarter (and) throughout the fourth. There's going to be quarters where we're going to struggle to score - I can understand that -but to have four-point quarters this late in the game against teams we may see later on, isn't good enough for me."
Both Seabury teams will be back in action tonight when they play host to Englewood Christian.
Copyright 2018 The Lawrence Journal-World. All rights reserved. This material may not be published, broadcast, rewritten or redistributed. We strive to uphold our values for every story published.