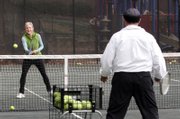 Part of what makes tennis such a good all-ages sport is also what makes it not so good for whole-body fitness.
"Tennis is a fun thing, something you can play until you're old, a great way to get exercise," said Pat Lomshek, coordinator of new-program development at Lawrence's First Serve tennis center, 5200 Clinton Parkway. "But for aerobic fitness : there's too much starting and stopping."
Cardio Tennis seeks to cure that.
A project of the Tennis Industry Association as a way to get more people involved in the sport, Cardio Tennis is a relatively new offshoot of tennis that marries traditional swings and volleys with drills designed to improve cardiovascular fitness.
Think aerobics with racquets.
"I'm real excited about it," Lomshek said. "I've been in tennis 30 years myself. The thing that's exciting to me is, it's all done to upbeat music. You're moving all the time. You don't have to be an accomplished player. You just have to have a tennis racquet and tennis shoes. But it's not for somebody who doesn't want a good workout."
Get in the zone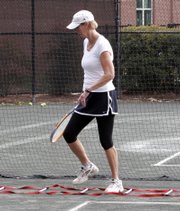 A typical Cardio Tennis group class begins with stretching and warmup exercises. A 30- to 50-minute cardio session - that is more concerned with fitness than hitting perfect shots - follows. A cool-down concludes the class.
Organizers try to get participants to keep their heart rates in an aerobic-training zone - between 65 and 85 percent of their maximum heart rate - for the bulk of the class. Traditional tennis, on the other hand, is marked by heart-rate spikes and too much time below the target zone to enhance endurance effectively.
Participants at First Serve who chose to use heart-rate monitors must provide their own, but Lomshek said on-court clocks would make it easy for netters to calculate their heart rates without an HRM.
"It's a fast-moving workout class," Lomshek said. "People are able to do lots of different drills hitting balls, working with ladder rungs, jumping jacks : there's some aerobic and some anaerobic exercise involved in it, all to music. It's 20 to 30 people at a time, real fast-paced and fun. It's just a great aerobic exercise."
And, for tennis buffs, it's bound to improve tennis skills, too. Though the emphasis is on endurance, Lomshek said, participants do a lot of hitting, which is bound to make players better.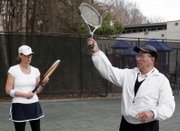 "When lower-skilled players go out and play with one another they are not hitting many balls - they are chasing many balls. That doesn't get your heart rate up," Michele Krause, national Cardio Tennis director for the Tennis Industry Association, said in an interview with the Associated Press. "In Cardio Tennis, a pro is controlling the activity, you're hitting tons of balls : and you have a great ability to stay in your heart-rate range for the recommended period of time."
Coming soon
The program started in 2005. So far, it has 1,500 workout sites in 48 states, Puerto Rico and 25 countries.
Lake Shawnee Tennis Complex in Topeka currently is the closest tennis facility to offer Cardio Tennis, but First Serve plans to have its program running by March 1.
The classes won't require First Serve membership, and the facility tentatively plans to hold morning and evening sessions.
"I'm sure our members will take advantage of it," Lomshek said. "But you don't have to be a member. When we first opened, one of our members asked about it, and we've received three or four calls asking if we'd have it. I wouldn't be surprised if it turned out to be quite popular."
Copyright 2018 The Lawrence Journal-World. All rights reserved. This material may not be published, broadcast, rewritten or redistributed. We strive to uphold our values for every story published.