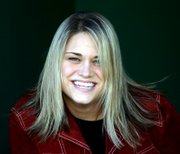 In its fourth year, the Straight Up Beautiful conference at Morning Star Church is entering uncharted territory.
"The big thing from the feedback we get from the kids," organizer Pam McDermott says, "is they want to know about boys and talk about boys."
And so, for the first time, the conference will focus on relationships.
The conference runs Feb. 9-10 at the church, 998 N. 1771 Road.
It was founded in 2004 to help teenage girls address issues that include body image and positive goal-setting.
As part of the focus on relationships, the conference will include a panel of boys who will talk about relationships from their perspective.
This year's featured speaker is Lindsey Kane, a Christian singer/songwriter who will speak Friday and give a concert for conference attendees.
McDermott says the yearly event grew from 75 participants in 2004 to 130 last year.
"I definitely think there's a need for it," she says. "I don't doubt that at all. We've tried to stick to the beauty aspect, and talking about dreams and encouraging them in practical ways. We want to try to provide (speakers) who have seen their dreams come true."
McDermott says herself and a small staff are working to be able to share the conference's message elsewhere.
"We're trying to get to the point in Lawrence where we could take this and show other churches how to do it," she says.
Conference registration and more information is available at www.straightupbeautiful.com. Walk-up registration also is available as the conference begins at 6:30 p.m. Feb. 9.
Copyright 2018 The Lawrence Journal-World. All rights reserved. This material may not be published, broadcast, rewritten or redistributed. We strive to uphold our values for every story published.