Bonner Springs — Lyn McMahon was diagnosed with a rare condition in October, and since then the life of the young mother of four has changed drastically.
McMahon, of Bonner Springs, has Guillian-Barre syndrome. The cause is unknown and strikes about 1 out of every 100,000 people. The condition causes weakness and even paralysis of some muscles.
McMahon's symptoms started with a numbing of her hands and feet. One morning, after taking a bath, she couldn't get out of the tub. When she finally succeeded, she fell down.
Her 4-year-old daughter, Eva, found her at 6 a.m. on the bathroom floor.
McMahon said the only symptom she'd had before that was some numbness in her hands and feet, which she thought was due to carpal tunnel syndrome, something she'd had when she was pregnant.
Within two hours she couldn't move at all, and she was taken to an intensive-care unit. She stayed there for two and a half weeks, then in acute care for one week, then rehabilitation after that.
Though McMahon has health insurance, it only goes so far. McMahon's care is "extremely expensive," she said. Her insurance company doesn't want to continue paying for $30,000 monthly intravenous treatments she receives.
Her insurance will cover 13 visits each for occupational therapy, speech therapy and physical therapy.
The speech therapy is necessary, McMahon said, because she has lost some control over her facial muscles. That includes her eyes, for which she is taking medication to ensure she can continue to blink.
She uses a walker to move around the house, and she said it's "a lot of pain getting up and down."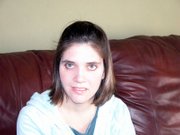 "Most people recover within a year," she said. "That's what they're hoping for, but I don't know if I'll ever."
McMahon said the pain of her condition is the worst part, and "it just came out of nowhere."
Then there's also the not knowing, she said.
"There's not a lot of research on the syndrome," she said.
McMahon had to quit her part-time job and needs help caring for her two youngest children, ages 4 and 3.
Her mother, Beverly Tumberger, has been helping with that, and her neighbors have been assisting the family a lot too, she said.
"I was just overwhelmed by everything everyone's done," McMahon said.
How to help
Neighbors of Lyn McMahon, who has Guillian-Barre syndrome, are having a chili dinner fundraiser to help pay for medical costs.
The event will be from 5:30 p.m. to 7:30 p.m. Saturday at Bonner Springs United Methodist Church, 425 W. Morse. A donation of $5 per person or $20 per family is suggested.
For more information, call Kelly Fehlhafer at (913) 441-0634.
Copyright 2018 The Lawrence Journal-World. All rights reserved. This material may not be published, broadcast, rewritten or redistributed. We strive to uphold our values for every story published.