New York — When Rex Grossman climbed to the podium in the middle of Soldier Field on Sunday evening, the cheers were loud and strong and came right from the heart of Chicago.
They were nothing like the moans and groans he heard with every pass he threw for most of the first three quarters of the NFC Championship Game.
"Listen to them," Fox's Terry Bradshaw said just before he handed Grossman the NFC Championship trophy. "They're loving you now!"
Sure they are, now that the Bears are the NFC champions and on their way to face the Indianapolis Colts in Super Bowl XLI. But in the days, weeks and months leading up to the Bears' 39-14 win over New Orleans, Grossman's supporters were nowhere to be found.
Callers to sports talk radio shows spent hours fretting about how he would throw away the Bears' big opportunity. Fans clamored for coach Lovie Smith to turn the team over to backup quarterback Brian Griese. And even now that the 26-year-old Grossman has accomplished something that no Chicago quarterback has done since Jim McMahon in 1985, he's still haunted by one question being asked all across the nation:
Is Rex Grossman the worst Super Bowl quarterback of all time?
"I don't know what his career record is now, but the guy just wins," said Bears linebacker Brian Urlacher. "I don't care what his stats are or anything like that. He's a winner."
"People kept beating him down," added receiver Rashied Davis. "They beat him and beat him and beat him and beat him. Well, he has the last laugh, don't he?"
He and the Bears were laughing a lot in the postgame locker room on Sunday, but they weren't chuckling during the season when Grossman was under siege. It wasn't as if the Bears were struggling behind their first-year starter (his first three NFL seasons had been derailed by injuries). They went 15-3 this season and Grossman is 19-7 as a starter in his four years in the league.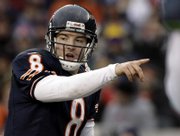 "I've never seen a player go through as much criticism as Rex Grossman has had to go through this year," Smith said. "He's led us to 15 wins. He's outstanding off the field. He does everything anyone wants him to do. I have all the confidence in the world that he can get the job done."
Still, there are reasons why Grossman, a former first-round pick (2003) out of Florida, has so many detractors. He completed only 54.6 percent of his passes (262 of 480) in the regular season for 3,193 yards, with 20 interceptions and 23 touchdowns. His quarterback rating of 73.9 ranked 29th in the NFL among quarterbacks who threw at least 150 passes. And he was the lowest-rated quarterback to reach a conference championship since Detroit's Erik Kramer (71.8) in 1991.
Five times he had a single-game quarterback rating below 40.0, including twice in December - a 1.3 on Dec. 3 and a 0.0 in the regular-season finale on Dec. 31, a loss to the Packers that he called a "meaningless game and one he failed to adequately prepare for," before eventually apologizing for those comments. In each of those games he had at least three interceptions.
"But we know what he's capable of," Urlacher said. "When he has to throw it, he does. When he's had to step up, he has. He hasn't really had two back-to-back bad games all season long."
In fact, he's had many, many good ones. He had seven games in which his quarterback rating was higher than 100.0 - tied for the best in the NFL with the other Super Bowl quarterback, Peyton Manning.
Copyright 2018 The Lawrence Journal-World. All rights reserved. This material may not be published, broadcast, rewritten or redistributed. We strive to uphold our values for every story published.