Fort Riley — Two days after President Bush pleaded with Congress to give his strategy in Iraq a chance, a brigade from this post that will be part of the second wave of Bush's planned increase in troops said goodbye Thursday to its families.
In the coming days, 3,400 soldiers from the 1st Infantry Divisions' 4th Brigade will board planes and head to Iraq, where they will be thrust into the fight to quell escalating violence in Baghdad. About 35 percent of the brigade's soldiers are making what is at least their second trip to Iraq.
At the deployment ceremony, Sgt. Conrad Kalazny talked about his second trip to war. He went to Afghanistan in 2004 for a year.
"It's a lot easier. A lot of guys have been there. I'm trying to learn as much as I can," said Kalazny, 26, of Erie, Pa.
During the 45-minute ceremony the brigade cased its colors, which it will unfurl in Kuwait before heading north to Iraq in February. The brigade's departure was pushed up three days with Bush's decision to increase the number of troops in Iraq to combat insurgents and sectarian violence.
Analysts expect the move to also increase U.S. casualties. January has been a deadly month for Americans, including two soldiers from Fort Riley: Sgt. Jonathan Kingman, 21, of Nankin, Ohio, and Sgt. Gregory A. Wright, 28, of Boston, both of the 1st Engineer Battalion.
At least 3,067 members of the U.S. military have died since the war began in 2003, according to an Associated Press count, including 83 from Fort Riley.
Bush asked Congress during his State of the Union to give his plan to increase the number of troops by 21,500 in the coming weeks a chance. But the Senate Foreign Relations Committee adopted a resolution opposing any increase in troop strength.
Pvt. Jessica Bailey, 21, of Dayton, Ohio, is leaving her 2-year-old son Caleb with family. She hopes to keep in touch with e-mails and phone calls.
"When I went to basic, he was 7 months old and he didn't remember me when I graduated," Bailey said. "I'm going to take a lot of pictures and I hope they show them to him. It's not going to be easy for anybody."
Heather Swales, 25, whose husband is a sergeant in an infantry battalion, is going to be looking for a job while he's away.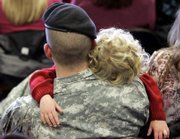 "I'm going to be lonely without him. You really can't prepare yourself for not having your husband for a year," Swales said.
Cmd. Sgt. Maj. Clifford Dockter of 1st Battalion, 28th Infantry, is going for what he expects will be his final deployment. He said the desire to serve runs deep among soldiers.
"I don't think there are too many guys out there who will tell you they don't want to go back over there. It's inbred in you. It's a competitive place," said Dockter, 44, with 26 years in the Army. "There isn't 'quit' in there. It doesn't say 'lose' in there. And it doesn't say, 'OK, it's hard, I'm tired and it's OK to quit now.' It's just not in there."
Later this year, the division's combat aviation brigade will deploy about 2,500 soldiers and more than 100 helicopters, the bulk of which will combine with Fort Riley units in Iraq.
Remaining at Fort Riley will be the 1st Brigade, which assumed the primary duty of training military transition teams that are deploying to Iraq. Those 10- to 12-soldier teams are trained for 60 days before embedding for a year with Iraqi units.
Gen. Babaker B. Shawkat Zebari, Iraqi army chief of staff, planned to visit Fort Riley today to review the transition team training.
Bailey joined the brigade shortly after it was activated a year ago, knowing that a deployment was likely.
"You gotta think, it's war. If you're not afraid to go, that's just crazy. You don't dwell on it. You have to deal with it," she said.
Division Commander Maj. Gen. Carter Ham praised the soldiers for hard work and becoming prepared. The brigade joins about 2,385 Fort Riley soldiers already deployed to Iraq, Afghanistan and the Horn of Africa.
"What these soldiers have done over the past year is truly, truly remarkable," Ham said.
Copyright 2018 The Associated Press. All rights reserved. This material may not be published, broadcast, rewritten or redistributed. We strive to uphold our values for every story published.