A collective "ewwww" arose from a group of fourth-graders Thursday afternoon when Casey and Taylor Davis told them that chewing gum is made with cow's hooves.
"When you guys are chewing your bubble gum, you're kind of like eating cow feet," said Taylor Davis, 15, of Tonganoxie.
It was news to 10-year-old Jesse Bonham, a Kennedy School student.
"That's nasty," he said after hearing the Davis sisters' presentation on cows.
Jesse was one of hundreds of local fourth-graders who visited the Douglas County 4-H Fairgrounds on Thursday, the first day of the seventh annual Slice of Agriculture program. Nearly 900 students from throughout the county will take a field trip to this year's program, which ends today.
Students pass through eight stations, including a visit to the "House of Germs," a game of "Soil & Water Jeopardy," a grain-themed crossword puzzle and a chance to climb inside the cab of a tractor. They also hear presentations from local 4-H members about raising cows, pigs and produce.
At the end, they sit down for a meal of pizza, carrots, milk and ice cream.
"We've found that kids don't know where their food comes from," said Karen Pendleton, one of the event's organizers. "Just because these kids live in Kansas doesn't mean they understand agriculture just by osmosis."
Pendleton said local agricultural agencies and businesses volunteer their supplies and time for the program, which is free to schools.
How ag-savvy are you?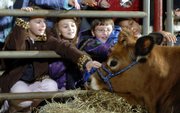 The questions below cover some of the things local fourth-graders learned Thursday at the Slice of Agriculture event at the Douglas County 4-H Fairgrounds.
If you can answer at least four, you're a true agriculture-savvy Kansan. If you miss more than one, you're probably a city slicker.
1. What's another name for "a protective covering spread on the ground to reduce erosion and evaporation" for crops?
2. What's a typical yield of soybeans per acre: 50 bushels or 150 bushels?
3. What do you call a female cow less than 2 years old that hasn't had a calf?
4. What do you call a bull that's been castrated and is used only for meat?
5. What's the term for soil that enters ditches, storm drains and water bodies?
Answers: 1. Crop residue. 2. 50 bushels. 3. A heifer. 4. A steer. 5. Sediment.
Copyright 2018 The Lawrence Journal-World. All rights reserved. This material may not be published, broadcast, rewritten or redistributed. We strive to uphold our values for every story published.