Wichita — Cattleman Mark Smith doctors his sick calf amid a gnawing fear that its illness, brought on by wet weather, threatens to add more misery to his already stressed herd just as calving season begins.
"I hope I don't see a lot of it. Some of these illnesses we are starting to see because of the storm, so we have to watch out for that. We are seeing the effects of a great amount of stress ... and deal with them every day," he says.
As a debilitating mix of ice and snow fell on some of the state's richest agricultural areas, cattle were left to shiver in the open, ice and snow encrusted on their bodies amid snowdrifts up to 3 feet high. Some cows simply froze or suffocated from the ice that formed in their nostrils. The rest just struggled to survive, and were left thinner and weaker.
The storms' biggest toll for ranchers and producers likely won't be the loss of a few cattle, but rather lost weight by cows and delayed reproduction cycles. Lost production from stressed cattle already has cost producers and the feedyards in lost profits.
Pregnant cows also have lost so much weight that veterinarians fear significant losses in this season's more vulnerable calf crop. The effects could stretch into this summer's breeding season, delaying the time when cattle ordinarily would breed.
"There will be a lot of cows that will get culled when they are pregnancy checked in the fall. More cows will get sold, and they become hamburger, and that means producers will have to buy or raise more replacements," said Larry Hollis, a beef veterinarian at Kansas State University.
The strain on man and beast alike from the storms - one started New Year's Eve only to be followed about three weeks later by a new round of ice and snow - is palpable in Smith's voice. He works from sunup to sundown, barely stopping to eat out of a can. There aren't enough hours in the day, he says, to get everything done - moving huge mounds of snow, cleaning cattle pens, spreading straw for bedding.
"We are running a loader and truck every day, eight hours a day, at a cost of $150 an hour - just to move snow," he says. "I have been doing that for three weeks, and I don't see when I am going to quit."
Smith has about 200 cows ready to calve this winter out in Greeley and Wallace counties in western Kansas, and more than 36 inches of snow still cover everything. Smith wakes now at night every four or five hours, checking on pregnant cows so newborns don't freeze in the frigid temperatures. He's already lost two calves and nine cows to the storms.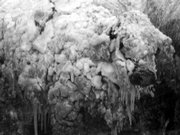 "These colder nights make it very difficult for a calf to be born and live in these conditions," he said.
Smith already has lost two calves, and nine head of cows to the storms. He also has culled cows that calved last fall, weaning those calves early and sending the mother cows to the market to reduce demand on his dwindling feed supplies.
He expects a significant reduction in the numbers of cows bred early this season, and that will affect the weight of those calves when they're sold in the fall of next year.
"There is a whole domino effect when we get into a storm like this," Hollis said. "When we knock body weight out of our cows it affects things short-term and it affects things long-term."
Although no one keeps firm numbers, the Kansas Livestock Association estimates well below 1 percent of cattle in feedlots affected by the storms died in the weather, a relatively insignificant death loss. The real loss comes in production, experts said.
"Marketings have been slowed somewhat. There has kind of been a standoff between feeders and packers in the last couple of weeks," said KLA spokesman Todd Domer. "Some of those cattle within a couple of weeks of being market-ready lost weight and they are trying to put that back on before they sell them."
Rich McKee, executive secretary of the KLA's feedlot division, said members who shipped cattle the week after the storm averaged a loss in weight of about 70 pounds per animal, amounting to an estimated loss of $63 per head.
There are 1.4 million head of cattle in the four Kansas counties declared a disaster area.
In Edwards County, rancher David Cross took advantage of the high prices for quality alfalfa - it is going for twice the price of a year ago - and sold all of his hay to feedyards and dairies before the storms hit.
Now he's relying on an abundance of lower-quality feedstuffs like milo and soybean to feed his 300 head of cattle. But with pastures under ice and snow, those lower-quality feeds require extra minerals and more hours of work blending them to produce a nutritional cattle feed.
After years of drought, Cross and Smith are both quick to point out the bright side.
All that snow brings the promise of green pastures for their cattle come spring.
Copyright 2018 The Associated Press. All rights reserved. This material may not be published, broadcast, rewritten or redistributed. We strive to uphold our values for every story published.