Jenna Brantley's 15-foot jump shot apparently wasn't good enough.
On Free State High's next defensive possession, the senior guard ripped the ball from Gardner-Edgerton's Sierra Shore in the backcourt and converted an acrobatic layup, despite an intentional foul that put Brantley on the deck.
Four points. Fifteen seconds.
Behind Brantley's game-high 21 points, Free State dominated Gardner-Edgerton, 51-27, Thursday night in the first round of the Firebird Winter Classic.
Upon the simple mentioning of her 21 points, Brantley's eyebrows elevated, displaying a look of surprise on her face.
"Yeah, I didn't think it was that many," Brantley said. "I think a lot of them were on fast-break points."
Free State (7-4) created numerous fast breaks from its suffocating defense. In fact, the Firebirds defense was so good that the Blazers failed to put up double digits in any quarter.
So much for Free State's three-game losing streak.
"Usually, the day before a game, we practice for an hour or an hour and a half," senior guard Lauren Kimball said. "Yesterday, we had a two and a half hour practice, just going over defense and going over plays."
Offensively, the Free State show clearly featured Brantley. She single-handedly outscored Gardner-Edgerton (6-5) in the first half, 16-9. She was on fire from long range, hitting three three-pointers. Free throws (0-for-2) were about the only aspect of the game that attempted to slow her down.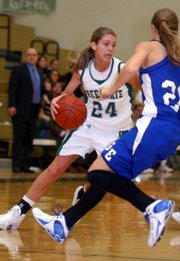 "She looked for her shot and played with confidence tonight," Free State coach Bryan Duncan said of Brantley. "Jenna always does. We're all going to go through our streaks, but that's what's great about her. She's going to come to play."
Free State shared the ball considerably more than it did in the three consecutive losses. Players were making fewer one-on-one moves and spreading the wealth to virtually everyone on the court.
The ball-sharing was exemplified best in the second quarter when Gardner-Edgerton attempted to press Free State in the backcourt. Junior forward Sarah Craft calmly beat the press with a lengthy pass to senior guard Allie Hock, who found an opening behind the defense. With only one defender to beat, Hock delivered an elegant touch pass to Brantley, who cut in the lane for an easy layup. Hock probably didn't have the ball in her hands for more than a second on the play.
"We're still one of the faster teams out there," Kimball said. "So just moving without the ball, setting picks away from the ball, and on-the-ball screens are just what we got, and that got a lot of motion for us."
Fittingly, Junction City destroyed K.C. Harmon, 72-21, in the north gym during the same time Free State played. The Free State and Junction City victories set up a 5:30 p.m. meeting today between the two teams.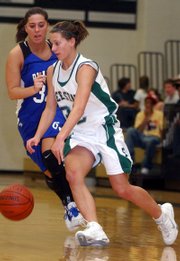 Free State and Junction City have met in the finals of the last three tournaments the teams have attended. Junction City won last year's Firebird Winter Classic and also defeated Free State in the Metro Prep Classic in Bonner Springs this season.
"It's become a great rivalry," Duncan said. "It's weird now that we're matching up before the finals."
Brantley may have heated up at just the right time. In Free State's 44-39 loss to Junction City at the Metro Prep Classic, Brantley didn't play because of an injured left ankle. But she insisted her health didn't necessarily imply Free State had the upper hand.
"It's just another game," Brantley said. "It would be nice to beat them since we lost to them earlier this year."
Copyright 2018 The Lawrence Journal-World. All rights reserved. This material may not be published, broadcast, rewritten or redistributed. We strive to uphold our values for every story published.