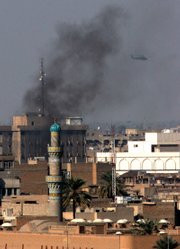 Baghdad, Iraq — U.S. and Iraqi troops battled Sunni insurgents hiding in high-rise buildings on Haifa Street in the heart of Baghdad on Wednesday, with snipers on roofs taking aim at gunmen in open windows as Apache attack helicopters hovered overhead.
Iraq said 30 militants were killed and 27 captured.
New details also emerged about the downing of a private U.S. security company helicopter on Tuesday, with U.S. and Iraqi officials saying four of five Americans who died in the incident were shot execution-style. Violence was unrelenting in Iraq on Wednesday, with at least 69 people killed or found dead, including 33 tortured bodies found in separate locations in Baghdad.
Government spokesman Ali al-Dabbagh said the latest joint raid was aimed at clearing the Haifa Street area of "terrorists and outlaws" targeting residents. He promised such operations would continue as U.S. and Iraqi troops prepare for a broader security crackdown to stanch the sectarian bloodletting that has turned Baghdad into a battlefield.
At 5 a.m. Wednesday, Iraqi army and American troops moved into the Sunni stronghold to launch targeted raids in a third bid this month to clear the neighborhood of militants. Armored vehicles massed along Haifa Street, where a median with trees separates four lanes of traffic lined by tall apartment houses built by Saddam Hussein for loyalists and dissidents from other Arab countries, mainly Syria.
The U.S.-Iraqi force faced fierce resistance from insurgents using hand-grenades, rocket-propelled grenades and small arms from the high-rises, the American military said. The explosions were so loud they could be heard across the capital. Black smoke rose from the area, located on the west bank of the Tigris River about a mile north of the Green Zone, site of the U.S. and British embassies as well as the Iraqi government headquarters.
U.S. Deaths
As of Wednesday, at least 3,067 members of the U.S. military have died since the beginning of the Iraq war in March 2003, according to an Associated Press count.
At one point, U.S. and Iraqi forces rushed into an office building on the edge of Haifa Street and told all the employees to go home as they fanned out and sent snipers to the roof, according to Jabbar al-Mashhadani, a Cultural Ministry spokesman.
The U.S. military said the combined force in the operation, dubbed Tomahawk Strike II, detained seven suspected insurgents and seized heavy weapons, including many rocket-propelled grenades, anti-tank rounds and 155 mm artillery rounds. The Iraqi Defense Ministry said 30 insurgents were killed and 27 captured, including four Egyptians and a Sudanese.
At least one civilian was killed and seven were wounded, hospital and police officials said.
The military reported separately that an American soldier was killed Wednesday in clashes near the city's center, but officials declined to give more specifics or say whether the death was connected to the Haifa Street fighting. Two U.S. Marines also were reported killed on Tuesday during combat in Anbar province, the military said.
Copyright 2018 The Associated Press. All rights reserved. This material may not be published, broadcast, rewritten or redistributed. We strive to uphold our values for every story published.