Melbourne, Australia — Unseeded and ranked No. 81, Serena Williams made it back to a Grand Slam final with a 7-6 (5), 6-4 victory today over Nicole Vaidisova at the Australian Open.
Williams will meet top-seeded Maria Sharapova for the championship. Sharapova defeated Kim Clijsters, 6-4, 6-2, in the other semifinal.
Williams, a seven-time Grand Slam singles champ, weathered Vaidisova's powerful forehands and gave back plenty of her own, sometimes surprising the 17-year-old Czech player with her speed around the court and the pace of her ball.
After leading 5-1 in the second, she needed six match points before sealing it with an overhead in 1 hour, 46 minutes.
"Yahooo!" she said, laughing and celebrating the win.
"She played some incredible points on match point," Williams said. "She just got relaxed. It reminded me a bit of myself. I just tried to stay focused and tried to stay calm - it was just great."
Williams won two of her seven majors at Melbourne Park and is one win away from her most improbable title.
In between her win here in 2005 and her run to this year's final, Williams had not beaten at top 10 player and dropped out of the top 100 at one point last year. By reaching the final, she is expected to surge back into the top 20.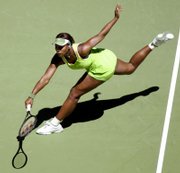 "I can't believe it. That's awesome - that was so fast," Williams said.
Williams played only four tournaments in 2006, finishing the season 12-4 and without a title. She was the ninth-lowest ranked player to make a Grand Slam semifinal since computer rankings were introduced in 1975.
If she wins, she would be only the second unseeded player to win the Australian in the open era.
Vaidisova broke Williams' serve in the first game and was dictating early rallies until Williams broke back to level at 3-3.
The pair traded breaks late in the set, with Vaidisova going ahead 5-4 and having a set point on serve before Williams rallied to break back and force a tiebreaker.
Copyright 2018 The Associated Press. All rights reserved. This material may not be published, broadcast, rewritten or redistributed. We strive to uphold our values for every story published.