This season, Dodge teams in the Nextel Cup Series would like to spread the wealth.
The manufacturer showed much improvement last season, finishing second to Chevrolet in the manufacturers' standings and collecting seven Cup wins.
Yet six of those wins came from one driver, Kasey Kahne of Evernham Motorsports, with the other from Kurt Busch of Penske Racing South.
Mike Accavitti, director of Dodge Motorsports, would like to see more of Dodge's teams enjoy success on the track this season, including trips to Victory Lane.
"All of our teams are starting to have a lot of time together. Kurt just finished his first year with the Penske organization and they're starting to gel better. We expect great things from them this year as well as from Ryan (Newman)," he said.
"We're excited about the opportunities at Petty Enterprises. We have increased our support with the Petty group. And at Ganassi, Reed (Sorenson) and (David) Stremme are showing strength and going out and getting Juan Pablo (Montoya) and developing him last season has him ready to come out blazing."
Accavitti believes Evernham, which also fields Dodges for Scott Riggs and Elliott Sadler, will continue to excel.
"There's no reason we won't see even bigger and better things from Evernham Motorsports. With the way (team owner) Ray Evernham works with his group, all of those guys are learning from each other and you have Kasey who won six races," he said.
Dodge teams also get some help from their race cars.
The manufacturer petitioned for a new nose for the Dodge Charger. And in the 16 races this season that teams will use the "car of tomorrow," Dodge will field a new model, the Avenger.
Accavitti believes Dodge teams should fare well in the "car of tomorrow" races because the manufacturer and its teams have been involved in the project from the start.
"Where the advantage is going to be, is those teams that have adapted the philosophy that the 'car of tomorrow' is coming and that they should deal with it. That is the philosophy we have had at Dodge," he said.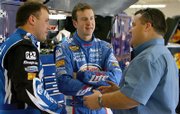 "Our race teams have had a chance to drive the cars, to tweak it and understand what needs to be done to make the car go faster. From that standpoint I think we have a leg up on our competition."
Experience is another factor Dodge has this season.
Montoya is the only rookie on the Dodge roster, yet he is still an experienced racer, having competed in Formula One and the Indy Racing League. His teammates at Chip Ganassi Racing, Sorenson and Stremme, are entering their sophomore seasons.
"Already testing at Daytona, the cars are really strong, and that is a testament to the team and what they have done over the winter," Stremme said. "At the end of the year we showed a lot of potential, and we're looking to start the season where we left off the last one."
Ganassi, for one, believes his organization is ready to compete for wins on a regular basis.
"I think it's safe to say most people wouldn't characterize me as patient and I'm not, but I do recognize it's a building- block process in this business," he said. "I think we're about there as far as building blocks. I certainly can't wait for the season to start."
Kahne is now entering his fourth season and needs only to develop some consistency to improve on his eighth-place finish in the points standings last season. Riggs came close to earning his first career win last season, while Sadler seemed to mesh well after joining Evernham midseason last year.
Former Cup champion Bobby Labonte made great strides helping Petty Enterprises build back credibility last season. With the increased Dodge support this year, Labonte and teammate Kyle Petty should continue to improve.
Penske Racing South probably went through some of the biggest changes in the offseason of the Dodge teams.
Busch, the first champion crowned under the Chase for the Nextel Cup system in 2004, will look to be more consistent. Newman, who went winless in Cup for the first time in his five-year career last year, will be working with a new crew chief, Mike Nelson.
"We sat on a bunch of poles and led some laps, but we weren't there at the end of those races," Busch said. "I wouldn't necessarily consider it a struggle, but it definitely was a transitional year."
Copyright 2018 The Lawrence Journal-World. All rights reserved. This material may not be published, broadcast, rewritten or redistributed. We strive to uphold our values for every story published.