For those trying to bond out of Douglas County Jail, freedom often comes cheaper than in other parts of the state.
A Journal-World review of suggested bond amounts that criminal suspects have to pay is often less in Douglas County than for similar crimes elsewhere.
Critics of the low bonds say the smaller amount some have to pay to get out of jail leads to more work for police and prosecutors, and could result in more people skipping court dates.
"It sure seems to me like crime is cheaper here," District Attorney Charles Branson said. "I think our bond schedule needs to be re-evaluated."
Branson said that in his experience, some offenders commit crimes while out on bond - crimes that may not be committed if bonds were higher.
Plus, some criminal cases can be delayed if a person does not have the financial incentive to appear for his or her court date.
"Would a higher bond have prevented that? Maybe," Branson said. "The system has really not held the bad guy accountable."
Douglas County judges set bond amounts for most major crimes on a case-by-case basis - including crimes against people, such as aggravated assault, murder, crimes against children and others. But many misdemeanors and felonies have "normal bail amounts" that judges use as a guide when deciding how much a person should pay to be released from jail before trial.
Judges and Douglas County Jail officials think the bond costs are appropriate, keeping jail overcrowding under control and giving offenders the chance to get out of jail for minor crimes.
Records show bond costs here are often lower than in other counties in the area and around the state.
For example:
¢ Bail for criminal damage to property less than $500 - a common crime often associated with attempted burglaries - is suggested at $1,000 in Shawnee County, the 3rd Judicial District. In Jefferson County, bond for a similar crime is set at $500.
In Douglas County, the same crime costs suspects only $250 to leave jail, records show.
¢ People who drive while intoxicated in Douglas County pay $250 to get out of jail for a first offense. In other counties, the total can be more than twice as high - including paying $3,000 in Sedgwick County.
¢ Assault suspects pay between $100 and $150 to leave jail in Douglas County, while the same suspects in Jefferson and Shawnee counties could pay as much as $1,000.
Lawrence assault suspects are often arrested under a municipal statute that mirrors the state charge - compared with other areas that don't have a municipal assault charge.
Ken Massey, undersheriff in charge of Douglas County Jail, said that sometimes comparing different charges is like "comparing apples to oranges."
But even when statutes do match up, some districts the Journal-World reviewed asked for bonds that did not have to be paid at the time a person was released from jail.
For example, an arrest for theft of less than $500 in Douglas County will cost a person $500 to get out of jail. The same arrest in both Sedgwick and Shawnee counties requires $1,000 bonds, but Sedgwick asks only that the people pay the money if they don't show up for court.
Steve Robson from Ace Bail Bonds, 2400 Franklin Road, said that scheduled bonds here can be quite a bit less than in surrounding areas.
Robson should know. His business depends on bonds, and with 15 bondsmen throughout Kansas, he often sees the difference between counties and districts.
"Some charges are really cheap in Lawrence," he said. "It takes a lot more bonds here to make money."
But even with lower bonds than most other districts in the state, Judge Robert Fairchild said that prosecutors can always ask for a higher bond if they think a suspect is a flight risk or if they have a serious criminal history.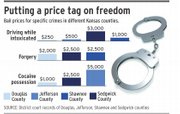 "We'll raise the bond," Fairchild said. "That's all they have to do."
Plus, Fairchild said, judges on duty can set a higher bond when someone is booked into prison.
The current version of the bond schedule was set three years ago after opinions from all six division judges, based on the severity of the crime and whether the offender is likely to be a danger to the community, Fairchild said.
Undersheriff Massey said that the lower bonds help control jail overcrowding because more people are likely to be bonded out.
"I see both sides of the problem," Massey said. "I have no problem keeping bonds where they are."
The jail accepts both cash and credit cards for people to bond out, and Massey said jail administration has considered getting an ATM for the jail's main floor.
Robson and other bail bondsmen were critical of the practice, especially in tandem with the lower bonds. Robson said in some ways it has become too easy and inexpensive to get out of jail.
"I'd like to see them jack those bonds up," Robson said. "People are going in and swiping their credit cards and off they go."
But Sam Fields, a bail bondsman and candidate for City Commission, said that if people want to get out, they'll get out no matter what the bond amounts are.
And as for bond amounts in general, he said he looks at them objectively. After all, it's up to the judges.
"They don't view the bond as a kind of punishment," Fields said. "And I don't think they should."
Copyright 2018 The Lawrence Journal-World. All rights reserved. This material may not be published, broadcast, rewritten or redistributed. We strive to uphold our values for every story published.