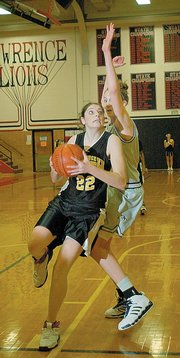 For the third time this season, the South Cougars' ninth-grade girls basketball team squared off against its rival, the Southwest Bulldogs. The Bulldogs defeated the Cougars in the previous two meetings, but with the third game, and season finale, being played on a neutral court Saturday night at Lawrence High, South thought it had a good chance to knockoff undefeated Southwest.
The Bulldogs were ready for the challenge.
Both teams played hard and aggressive throughout, but the Bulldogs (17-0) pulled away late behind 15 second- half points from Cassie Potter and won the game, 50-37.
"They've been our toughest team," Southwest post player Ashli Hill said. "They have a good point guard as do we, and we just match up tough."
Hill scored seven points, grabbed 15 rebounds and blocked five shots in the game. But from the opening tip it was clear both teams point guards were ready to lead their teams.
On the game's first possession, South's Haley Parker drove from the top of the key around the Southwest defense to the basket and delivered a pass to Kacie Welborn, who scored on a layup.
Parker again delivered on the Cougars' next possession by hitting a 3-pointer, and the Cougars (13-7) enjoyed an early 5-2 lead. The Cougars would then push their lead to 7-4 on a basket from Abbie Ramos.
But that's when Southwest's "big three" of Hill, Jasmyn Turner and Cassie Potter went to work.
The trio combined to score the Bulldogs' next 10 points, six of them coming from 3-pointers by Turner and Potter.
But South's Parker answered right back.
With less than three minutes to play in the first half, Parker hit her second 3 -pointer of the half. And after a basket by April Miller, the Cougars went into the break trailing 21-18 with momentum on their side.
One reason for the Cougars' success was their aggressive defensive play, especially in the paint against Hill. Unable to get into their transition game, the Bulldogs' screen-and-roll offense opened up the inside but only briefly. The Cougars doubled Hill in the post, and tough defense from Welborn and April Miller, forced Hill to miss shots or kick the ball back outside.
"It was rough in there," Welborn said. "It was really aggressive. Both teams are. You have to try your hardest. Ashli she's long. You got to be tough on her."
In the second half, the Cougars' defense continued to swarm around Hill, and Southwest clung to a one-point lead early in the third as Parker drove into the teeth of the Bulldogs' defense and scored over Hill.
"We know what we're going to get with Haley," South coach Jay Deiser said. "She's such a luxury to have as point guard. She just gets things done."
But with South ready to take the lead, Potter answered again for the Bulldogs.
Despite picking up three fouls in the first half, Potter continued to attack the Cougars' defense and found openings both inside and out.
"I know how to play smart and I know how to keep my composure," Potter said.
Potter scored 13 of the Bulldogs' next 20 points, helping her team build a 41-31 lead with five minutes to play in the fourth quarter.
With the Cougars needing to score points fast, late turnovers and only one team foul late in the game, ended the Cougars' upset bid.
"I thought we did pretty good," Parker said. "But we kind of lost it in the second half."
Parker scored 13 points and dished out five assists, while Welborn scored 12 points and grabbed six rebounds to lead the Cougars. While Potter scored a game-high 22 points for Southwest, South achieved its goal of limiting Hill and Turner.
Hill shot 3-for-11 from the floor and Cougars' guard Jordyn Tolefree held Turner to just seven points off 2-for-12 shooting.
"We made a concerted effort to really help off," Deiser said. "Our kids did a great job."
Southwest coach Michelle Karleskint also applauded South's effort.
"They're a very good team and very well coached," she said. "I was pretty nervous coming into this game."
Even though his team fell short on its upset bid, Deiser couldn't be prouder of his team.
"They're a really special group when it comes to basketball ability," he said. "They're very talented. Lawrence High has a great future. I thought we probably left a few wins on the table, but as far as improvement and effort there's nothing I would change. They came so far from day one."
Copyright 2018 The Lawrence Journal-World. All rights reserved. This material may not be published, broadcast, rewritten or redistributed. We strive to uphold our values for every story published.