Auburn, Ala. — The Auburn Tigers were racking up breakaway dunks, sneaking to the basket for uncontested layups and generally having no problems scoring against No. 12 Alabama.
The Tigers put an emphatic end to a seven-game losing streak against the Crimson Tide, using quickness and a dominant second half to beat their in-state rival 81-57 on Tuesday night.
The Tigers (13-8, 3-3 Southeastern Conference) scored the first eight points of the second half to overcome a 36-35 deficit and hardly looked back.
Auburn hadn't beaten Alabama (15-4, 2-3) since 2003 and has now won two games against ranked teams in a six-day stretch after ending an 0-for-15 stretch against then-No. 22 Tennessee.
"That's as good as we can play in the second half," Auburn coach Jeff Lebo said. "It's a good win if you're an Auburn fan. We took a step into the pond with the win over Tennessee. We dove in tonight."
Korvotney Barber scored 18 points, Frank Tolbert added 17 and Josh Dollard had 16 for the Tigers. Quan Prowell had 14 points, 10 rebounds, four assists and three steals.
Tolbert made 6-of-7 shots, the only miss an errant three-pointer in the final two minutes.
They played some defense, too. Alabama managed just 21 points and shot just 32 percent after halftime.
The Tide's road struggles continued. Alabama has lost its first three SEC road games by an average of 24 points to unranked teams. Western Division teams are now 0-15 in SEC road games.
Alabama coach Mark Gottfried was left wondering what went wrong after his team had "kind of a meltdown" in the second half.
"We've just got to find some answers," Gottfried said. "We've got to go back and work hard. We've got to do a lot of things to get ourselves back where we need to be. I don't think right now we're playing nearly the way we can play."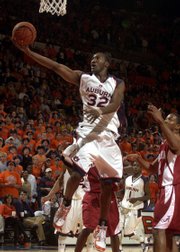 It was the largest victory margin of any unranked Auburn team against a ranked foe. The Tigers surpassed their win total of last season.
"We finally did it," said Tolbert, rating the Tennessee win No. 2 and Alabama No. 1 among his biggest wins at Auburn.
"We've just been working so hard. We just worked so hard and it's finally starting to show and pay off."
No. 16 Air Force 72, TCU 39
Air Force Academy, Colo. - Dan Nwaelele scored 13 points, and Air Force used sharp shooting and a stifling defense to cruise to its 27th straight home victory.
Matt McCraw and Tim Anderson each added 11 points for the Falcons, who shot 62 percent from the floor and 50 percent from beyond the arc.
St. John's 71, No. 22 Notre Dame 68
New York - Larry Wright hit a three-pointer with 9.9 seconds to play to lift St. John's to its second straight last-minute win at Madison Square Garden.
Lamont Hamilton scored all of his 23 points in the first half for St. John's, which beat Syracuse 64-60 on Sunday on two late three-pointers.
Illinois 51, No. 23 Indiana 43
Champaign, Ill. - Rich McBride scored 15 points to lead Illinois to its first win against a ranked opponent in five tries this season.
D.J. White scored 12 points for Indiana, which had a five-game winning streak snapped.
Both teams had horrific shooting nights. Indiana was just 17-for-44 (39 percent), and Illinois was 17-for-42 (40 percent).
No. 24 Virginia Tech 92, Miami 85
Coral Gables, Fla. - Zabian Dowdell scored a career-high 30 points to help Virginia Tech.
Deron Washington added 23 points and scored on two separate three-point plays in the final 1:16 to secure the victory for the Hokies, who have won six of their last seven.
Copyright 2018 The Associated Press. All rights reserved. This material may not be published, broadcast, rewritten or redistributed. We strive to uphold our values for every story published.