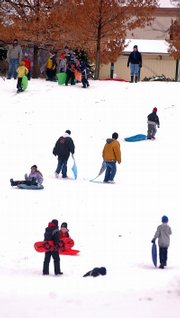 A week after dealing with landscapes coated with ice, Lawrence-area residents woke up Sunday to a far more inviting winter scene - a thick blanket of snow covering the community.
The snow started Saturday afternoon and continued through the early morning hours Sunday. The average accumulation across Douglas County was 3 inches, said 6News Meteorologist Sarah Jones. The last time the area had that much accumulation was the snowstorm of Dec. 17, 2005.
Though roads were slick, local emergency dispatchers reported no major accidents or injuries. By Sunday evening, most roads had been cleared and drivers were having few problems getting around town.
Unlike last weekend, when it was dangerous just to step outside, Sunday was a good day for winter activities. All the usual hot spots had plenty of sledders and snowboarders.
At Centennial Park, dozens of kids lined up along the hilltop near Sixth Street and Rockledge Road and launched themselves down toward the creek. Sleds were the primary means of snow transportation, but one group of girls brought an inner tube to the hill.
Nine-year-old Caitlin Stout took turns with other girls as they piled two and three high on the tube. Caitlin said she went out last weekend, but she preferred this storm's snow.
"It has the best snow," she said. "This week's better because the sleet and ice doesn't hit you in the face."
Over by Campanile Hill on the Kansas University campus, the sledders were a bit more enterprising about their transportation. One man even rode a toilet seat from along Memorial Drive all the way out onto Potter Lake.
Reece Conklin, 12, had his snowboard out for its first use of the season. Conklin said Sunday's snow was great because it let him go really far and really fast on his snowboard, which he insisted was safer than a sled.
The opportunities for sledding may not vanish as soon as the temperature rises above freezing.
"I'm keeping my eye on next weekend," Jones said. "It's so far out and such a slight chance, though, that I can't make any predictions."
Copyright 2018 The Lawrence Journal-World. All rights reserved. This material may not be published, broadcast, rewritten or redistributed. We strive to uphold our values for every story published.