Lack of snow at Snow Creek is easy enough to overcome.
Lack of cold, on the other hand, is another matter.
Extensive snowmaking capabilities at Snow Creek - the closest ski "resort" to Lawrence, about 50 miles to the northeast in Weston, Mo. - make skiing possible regardless of the natural precip that has fallen.
But no amount of manmade snow can weather the above-freezing temperatures that have been the norm over the region for most of the season.
"It was warm," said Michele Corkins, Snow Creek's director of sales/marketing. "When it was cold prior to that, we blew a lot of snow, and that helped sustain us through the warm weather. We made it through. If it would have stayed warmer another week or so, we might have been in trouble."
Thanks in part to the recent cold snap, Snow Creek made it through.
At last check, the park reported a base of 36 to 60 inches, with 10 of 12 runs open.
Corkins said optimal snowmaking conditions were temperatures in the teens, with low humidity.
"It has to be below 27 degrees," she said. "If you recall, last year was a warm winter, too, but we were open 90 days. We opened earlier last year. Usually, it just works out to where we make enough snow we can make it through the warm stuff."
What is Snow Creek
It's hard to say exactly what niche Snow Creek - now in its 21st season - fills in the ski landscape.
Is it merely a poor man's mini-Colorado? A beginner's jumping off point? Skiing Lite?
"It's a lot of things to different people," Corkins said. "It's definitely not the same as Colorado. You can bring your family out. You're close - in your own back yard, if you will. It's definitely a place you can come and get warmed up so you can go to Colorado. Some people come to take lessons to learn. Some just want to warm up, brush up on their skills before going to, say, Colorado."
In terms of pure statistics, Snow Creek pales to Colorado.
Snow Creek boasts a vertical drop of 300 feet for its 12 trails. By comparison, Breckenridge has a vertical rise of 3,398 feet for its 152 trails.
Breckenridge also has a similarly steep cost.
A single-day lift ticket at this time of year costs as much as $81. An all-day pass to Snow Creek tops out at $36, or $61 for a pass and equipment rental.
"It's definitely not the same as Colorado," Corkins said. "How do they compare? I don't know. Definitely shorter runs. And shorter lift lines. Usually."
Tubin', too
Photo Gallery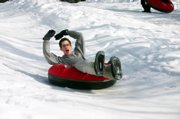 Snow Creek
New to Snow Creek this year is the "Tornado Alley" snow-tube area.
The seven-lane run is 600 feet long and is serviced by a mobile walkway.
A two-hour pass, snow tube rental included, costs $20.
"It's a different kind of winter sport, for people who don't ski or snowboard," Corkins said. "If they don't want to ski or snowboard, they can tube."
Corkins said Snow Creek officials had no idea what to expect from the new area. So far, there are twice as many skiers as tubers.
"For us, it was just a huge learning curve," Corkins said. "It's so new, we didn't know what to expect. But even two to one means it's fairly popular.
"The surprising thing is, we have all ages. My 3-year-old nephew has been here, and a 70-year-old lady. They all love it. Everybody loves it."
For more info on Snow Creek, go to www.skisnowcreek.com.
Copyright 2018 The Lawrence Journal-World. All rights reserved. This material may not be published, broadcast, rewritten or redistributed. We strive to uphold our values for every story published.