Tonganoxie — Police Chief Kenny Carpenter is spending his workdays in Tonganoxie now.
But three years ago, he was far from home, keeping guard over one of the world's most notorious men: Saddam Hussein.
In light of the recent execution of Saddam, Iraq's former president, Carpenter said he now feels more comfortable talking about his experiences serving at the detention center where Saddam lived.
Carpenter, who recently retired from the Army Reserve, spent 2004 as the senior sergeant major of the high-value detention center in the Baghdad area. Serving as the command sergeant major, he was the senior enlisted military person at the facility.
Carpenter was a member of the 439th Military Police Detachment, the Omaha, Neb.-based unit charged with running the detention facility from January 2004 through January 2005. Among the detainees were Saddam and his high-level command staff. Carpenter said he could not provide details about the detention center.
However, he did describe his work at the center, where the former Iraqi dictator lived until he was handed over to the Iraqi government for execution last month. Saddam was hanged Dec. 29.
For Carpenter, the 12 months he spent working at the detention center were long and challenging. It was a year away from home, as well as from his work in Tonganoxie, where Carpenter has been police chief since January 2000.
But it was a year he will long remember.
Screening process
One of Carpenter's assignments was to screen detainees' incoming and outgoing mail. In doing so, he saw another side of the detainees.
"I knew how dangerous of people they were," Carpenter said. "But on the other hand, through reading their mail you realized that to their grandkids they're still Grandpa. : You couldn't help but feel for the families who were struggling because their spouses were detainees."
Carpenter said detainees were allowed to write one letter a week to an approved person.
During the year he had only minimal contact with Saddam.
"I gave him his mail," Carpenter said. "My visits were limited. I did not see him nearly as much as the guards at his cell did. Nobody was back in his area unless they had business to conduct. It was a very secure area."
Carpenter said Saddam was pleasant to detention center staff, who were American military personnel.
"Saddam was very polite and obeyed the guards," Carpenter said. "I don't think it was necessarily because he was a good person, but because he was very smart and knew that the better he acted with us, the better treatment he would have."
Security was a constant concern.
Carpenter said at one time an intelligence report revealed a possible plan to break in and free detainees. However, that didn't materialize.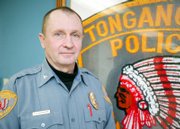 Tidbits about Saddam
Soldiers at the detention center were responsible for security, as well as for the daily routine of caring for detainees.
"We were concerned about many things, because our job was to keep him (Saddam) healthy for the trial," Carpenter said.
While the safety of the food served to Saddam was one concern, Carpenter said Saddam usually ate the same mess hall food that was served to the detention center's staff.
The staff tried to shield Saddam from current events.
"He did not have a newspaper or TV," Carpenter said.
However, Carpenter said Saddam spent time reading books, including the Quran. And the former Iraqi dictator used a prayer rug the center's staff provided.
In prison, Saddam was well-groomed, Carpenter said, noting he often wore traditional Iraqi robes.
Carpenter was at the detention center as Saddam's first court appearance neared.
"I and the sergeant major serving as the deputy warden wanted Hussein to wear prison clothing and handcuffs to court," Carpenter said. "But Maj. Gen. Godfrey Miller, the commander of detainee operations for all of Iraq, said he had to wear a suit without handcuffs."
They sent a translator to town to buy suits.
Interesting assignment
Throughout his 2004 Iraq tour, Carpenter said, he was aware of the seriousness of the situation - that he and fellow soldiers were guarding Saddam.
"It made our assignment probably more interesting, knowing who we were dealing with, not just Saddam, but all the detainees," Carpenter said. "All the detainees had been high-level regime members."
Earlier in his military career, Carpenter was on active duty in the U.S. Marine Corps for four years, including serving in Vietnam in 1965 and 1966. He served in the Kansas Army National Guard for 20 years before retiring, then came out of retirement to go into the Army Reserve. He says he thinks the 2004 duty in Iraq concluded his military service.
Since returning home to Kansas two years ago, Carpenter kept track of the proceedings of Saddam's trial.
Carpenter said he wasn't surprised that Saddam was executed just weeks after his court trial.
"The Iraqi system is completely different than the United States'," he said.
Copyright 2018 The Lawrence Journal-World. All rights reserved. This material may not be published, broadcast, rewritten or redistributed. We strive to uphold our values for every story published.