Denver — Carmelo Anthony's suspension is over. Let the suspense begin.
The day after the NBA's leading scorer was banned for 15 games for fighting, the Denver Nuggets acquired seven-time All-Star Allen Iverson, who was the league's second-leading scorer at the time.
Can two high-scoring superstars coexist?
Sure, Iverson said, insisting he has carried the load for so long in his career that he's ready to serve as wingman to the 22-year-old Anthony.
"I've never played with nobody that good," Iverson said.
Anthony hasn't, either, and he, too, swears there won't be any problems playing alongside A.I. After all, he thrived with the U.S. team at the world championships last summer while playing with LeBron James and Dwyane Wade.
"I can't wait to play with Allen," he said. "It's going to be great."
Iverson said offense won't be a problem when Anthony gets back, and Anthony agrees.
"I think it's going to take some time to get a rhythm for everybody when I come back," Anthony suggested. "We all got to make an adjustment. It's going to take a couple of games."
Anthony, who returns from his 36-day absence tonight when the Nuggets face the Memphis Grizzlies at the Pepsi Center, said in an open letter of apology to fans and the team on Sunday that he'll return a better player and a better person.
He'll also return to a lineup that's much different from the one he last saw on Dec. 16, when he clocked New York Knicks guard Mardy Collins, who had collared J.R. Smith on the way to the basket, leading to a brawl that resulted in 10 ejections and seven suspensions.
The day after the suspensions were handed down, the Nuggets sent Andre Miller, Joe Smith and two first-round draft picks to Philadelphia for Iverson. Then, they dealt Earl Boykins and Julius Hodge to Milwaukee for Steve Blake, who helped the Nuggets win their last three games to finish 7-8 without Anthony.
Coach George Karl has spent countless hours concocting plays to complement both his superstars.
"They are both great offensive players," Karl said. "I'm not into this (notion) that it won't work. I think great players like to play with great players. Sometimes it's not as perfect and fluid as the San Antonio Spurs or teams like that. But normally in time you can figure that if they will cooperate and move the ball and pass the ball, good stuff will happen."
Karl's contemporaries suggest the Nuggets will find a way to make it work.
"There will be absolutely no problem," Spurs coach Greg Popovich said. "They respect each other. Anthony has a great inside game. George convinced him what a power he is down there. Iverson has the penetration ability and perimeter."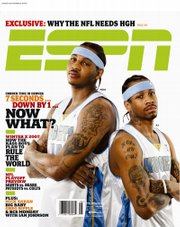 Former Nuggets player Ruben Patterson, now with the Bucks, isn't so sure things will click.
"There's only one NBA basketball," he said. "I don't know how they're going to get all those shots off."
Spurs center Tim Duncan doesn't see that as a problem.
"Iverson and Carmelo will work well together," Duncan said. "David Robinson and I got it done together. I'm not seeing anything different from Carmelo and Allen. They are different types of players than David and I were. They are both offensive-minded and are volume shooters. I think Allen is one heck of a competitor and passer."
Anthony was enjoying his best season this year both on and off the court when he threw his costly punch.
He had polished his public and corporate image and had steered clear of the controversies that dogged him early in his career. He gave $3 million to Syracuse, which he led to the national championship in 2003, toward construction of a basketball facility and donated $1.5 million to a Baltimore youth center just days before the Grapple in the Apple.
Anthony, who got the harshest punishment of the seven suspended players, figures he could have had the penalty reduced on appeal but wanted to put the mess behind him.
"I'm glad I didn't appeal it," Anthony said. "I got tired of seeing my name on the ticker-tape."
Anthony's letter
Dear Nuggets Fans, Teammates, Stan Kroenke & the Nuggets Organization,
The day is finally here. It has been a very long wait for my first game back. Before the game tomorrow, I wanted to take the time to thank all of you for your support of our team and your support of me. I greatly appreciate the e-mails and letters from those of you who wrote to me expressing your support. I also wanted to let you know how excited I am to get back on the court and play with my new and old teammates. I have been going crazy for 36 days waiting to return. All my life playing basketball has come easy to me, but not being able to play has been the most difficult thing I have ever experienced as a player.
I've spent this time off working on my game and reflecting on who I am. And who I want to be. I want all of you to know that I plan to be better, stronger and smarter on the court than I've ever been before. I've never been more dedicated to becoming the best player and teammate that I can be. It has been very tough watching the team play without me, knowing that my mistake has made it very difficult for my teammates, the franchise and the fans. I've spent the time working extremely hard, and I plan to come back better than ever.
I've also spent time thinking about the huge responsibilities I have as the captain of the Denver Nuggets, the captain of Team USA, a face of the NBA, and a role model to young people. I'm aware that a great deal is expected of me, and not just as a player. I'm expected to make the right decisions, lead by example and to be a professional.
Once again THANK YOU for your support. I hope to express my appreciation by continuing to develop as a player and as a person. I can't wait to get out there and show everyone what the Denver Nuggets are capable of. I'll see you at the Pepsi Center on Monday night. I'll be the first one there.
Sincerely,
MELO
Copyright 2018 The Associated Press. All rights reserved. This material may not be published, broadcast, rewritten or redistributed. We strive to uphold our values for every story published.