Pittsburg — Dominic James regrets being on the bench with a shoulder injury during the key minutes of Pitt's comeback victory at home against Marquette last season. He wasn't about to miss the rematch in Pittsburgh.
James made two free throws after being fouled with less than a second remaining in overtime, and No. 24 Marquette rallied after squandering an 11-point lead to surprise No. 6 Pittsburgh, 77-74, on Sunday, making all 10 of its free throws in overtime.
James scored 23 points, and Dan Fitzgerald and Wesley Matthews had 14 each as the Golden Eagles (17-4, 4-2) improved to 4-1 against Top 25 teams and dealt Pitt (17-3, 5-1) only its second home-court loss in 30 games the last two seasons. Pitt is 0-3 against ranked teams.
"We haven't lost a lot, and this is disappointing," Pitt coach Jamie Dixon said. "But there's not many times a team is going to go 10-of-10 at the line in overtime and lose."
Ronald Ramon scored 21 points, and 7-footer Aaron Gray had 16 points and nine rebounds despite sitting out the final 31â2 minutes of regulation, when Pitt surged back after trailing 60-51 following Fitzgerald's two threes. Fitzgerald also hit an important three during the overtime.
The Panthers, who had never led or been tied since holding a 10-9 lead, sent it to overtime on Ramon's two free throws that made it 64-all with 3.5 seconds remaining.
Gray returned to score Pitt's first five points of overtime, and the Panthers led as late as 74-73 after Levon Kendall made two free throws with 1:35 remaining.
But Kendall's pass was stolen on Pitt's next possession, and James, after searching frantically for an open lane to the basket as the clock ticked down, was fouled with three defenders around him and nine-tenths of a second remaining.
He made both free throws to finish 7-of-8 from the line. Matthews made two more free throws after being fouled on Pitt's inbounds play.
Asked what was going through his mind when he stepped to the line, James said, "Ice water was going through my mind at the end. I've never had two free throws to win a game like that."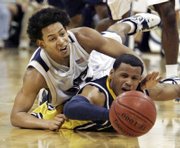 Last year, James sat out for 81â2 minutes at Pitt following a collision with Antonio Graves, and the Panthers came back to win 77-71. Later, the Panthers were told that Marquette coach Tom Crean called them "dirty," an allegation Crean strongly denied Sunday.
"We did an excellent job of dealing with the adversity of the game," Crean said after his team won its third in a row on the road, on some of the Big East's toughest home courts. "We didn't get down mentally in overtime and found a way to win the game. Winning at Connecticut and Louisville before this helps a little bit."
Especially James, with Crean saying that his point guard wasn't the first option on the play that led to his decisive free throws, but still wound up with the ball.
"He didn't need to be nervous at the end," Crean said. "He makes so many big plays for us."
No. 20 Notre Dame 82, South Florida 58
South Bend, Ind. - Rob Kurz had 21 points and 10 rebounds, and Colin Falls added 14 points to lead Notre Dame over South Florida , the 14th straight home win this season for the Fighting Irish.
The Bulls (10-10, 1-5 Big East) kept it close early, leading by as many as five points about eight minutes into the game. But Notre Dame ended the first half on a 21-2 run, holding South Florida without a basket for the final nine minutes of the half to open a 42-26 lead at intermission. The Bulls missed their final eight shots of the half and were just 2-of-10 from the free-throw line during that span.
No. 23 Virginia Tech 67, Maryland 64, OT
Blacksburg, Va. - Zabian Dowdell scored four of his 19 points in overtime, and Virginia Tech rallied after blowing an eight-point lead late in regulation to beat Maryland and improve to 10-0 at home this season.
The Hokies (14-5, 4-1), who saw a 58-50 lead disappear in the final six minutes when they managed just one more point, went ahead to stay on two free throws by Jamon Gordon with 3:08 left, then padded their lead on Dowdell's putback with 2:11 to play.
Gordon added 16 points, and Coleman Collins had 11 and 14 rebounds for the Hokies.
Maryland (15-5, 1-4) lost for the second time in five days in Virginia. The Terps were beaten 103-91 at Virginia on Tuesday night, then scored just one point in a four-minute stretch of overtime after closing regulation with an 11-3 run to tie the game.
Copyright 2018 The Associated Press. All rights reserved. This material may not be published, broadcast, rewritten or redistributed. We strive to uphold our values for every story published.