With ice packs covering nearly all of Elizaveta Avdeeva's upper body, the Kansas University tennis player walked out of First Serve having won all four matches she participated in against Tulsa and Drake on Sunday.
Unfortunately for KU, Avdeeva's efforts weren't enough for the Jayhawks to top Tulsa. KU lost, 4-3, in the morning session.
In the evening matches, KU beat Drake, 4-1. The Bulldogs' one point was an injury default. Because of the late hours, the final two pairings were not finished once Kansas clinched its fourth point.
Fittingly, Avdeeva capped the long day with a three-set victory over Drake's Carla Zabaleta, 4-6, 6-1, 6-3, for the deciding point.
"When you play for, like, nine hours almost in a row, you're going to speak angry," said Avdeeva about her evident frustrations throughout her No. 1 singles match against Zabaleta. "I lost my patience, I wasn't consistent and basically was tired. I was just hoping that she would miss the ball. I would have been really sad if I had lost (to Zabaleta)."
Avdeeva teamed up with Edina Horvath to win both of their doubles matches, 8-2 over Tulsa's Kindsay Grimes and Zabaleta and 8-4 against Veronika Leszayova and Sarah Plowman of Drake.
For a second consecutive day, the Jayhawks' Ksenia Bukina participated in the doubles matches but sat out the singles events because of injuries.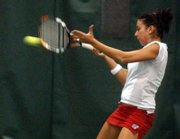 "I was just trying to concentrate on the doubles, because doubles points are really important for us so that we could be up 1-0," Bukina said. "I was feeling bad because I wasn't able to play and get one point for the team, but we did pretty good because we have two injured people on the team."
Salina junior Stephanie Smith was the other KU player sidelined by injuries.
"With having to pull Ksenia out, everybody had to up their performance," Kansas tennis coach Amy Hall-Holt said. "And I was really pleased with how our freshman, Kunigunda Dorn, performed today. She's definitely proved herself today in winning both of her matches. She's just coming along, and she's finally, I guess, getting a little bit of that freshman experience under her belt, and I look for great things to come from her."
Dorn faced Tulsa's Santie Delport in the No. 3 singles, taking it to three sets, 3-6, 6-4, 6-0, and knocked off Drake's Zi Wang in convincing fashion in the No. 2 singles, 6-0, 6-1. She also paired up with Lauren Hommell in the doubles losing, 8-1, to Tulsa's Delport and Marta Marcinkowska, then topping Drake's Kari Sloboth and Allison Wilkie, 8-1.
Sunday's matches capped off a two-day, three-team home schedule for the Jayhawks before they play host to the 20th-ranked Texas Longhorns next Saturday back out at First Serve.
"I had this weekend (scheduled) to make sure that we are in match shape," Hall-Holt said. "And it's tough for us to play each other as a teammate in challenge matches and such. A weekend like this definitely proves that we're working hard at practice and we're taking the right steps. We do have a lot of work to do, but I think we're heading in the right direction. ... This experience this weekend is definitely going to help us look forward to Texas this next weekend."
Copyright 2018 The Lawrence Journal-World. All rights reserved. This material may not be published, broadcast, rewritten or redistributed. We strive to uphold our values for every story published.