Family tradition is important to Jack and Maxine McCabria, and farming is one of those traditions.
Maxine McCabria's family, the Millers, have lived on the same homestead outside Eudora since 1887 and farmed the same land for more than a century.
When Jack McCabria retired, the couple were back on the Kansas plains to head a farm miles from the one on which he grew up.
Fifteen years later, the two were awarded the 2006 Kansas Banker Association award for soil conservation, the same award Jack McCabria's father won in the late 1940s.
As young adults, Jack and Maxine McCabria graduated from Eudora High School and attended Kansas University. Jack studied mechanical engineering while living at home.
"I asked my dad if I could go to college, and my father pointed up at Fraser Hall and said, 'If you go there,' " he said.
Maxine lived in Corbin Hall and studied dietetics before earning her master's degree at the University of Iowa.
Maxine worked at the KU Medical Center, while her husband worked at Westinghouse Electric. That job took them to Lima, Ohio, until Jack's retirement.
Then the two made their way back to the Sunflower State with encouragement from their children, Lynette, Jim and Janelle.
"When we retired, our kids told us to come back here. They said this was home," Maxine said. "They told us we could stay in Ohio, but they were coming back here."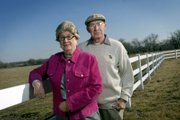 In 1991, the McCabrias contracted the construction of a house in southeast Lawrence, but before they moved in, they were making other plans. Directly behind the white house where generations of Millers were born and raised, the McCabrias built a new home to accompany their 180-acre farm, which Maxine had inherited three years before.
Once the McCabrias were back on the Eudora homeplace, Jack began terracing the land, portions at a time. The process continued until 2005, when the last terrace was in place, Jack said.
Terracing is a process by which land on a slope is broken into smaller segments of flat land or steps to prevent runoff, which can cause erosion.
"The advantage of terracing is it keeps the erosion down. It's not easier, but it just prevents erosion," Jack said. "The value of the land is increased as soon as you get the erosion under control."
Jack McCabria said the terraces can be complicated, but he's had no problems with the Neis brothers - Jim, Dale and Stan - who grow soybeans, corn and wheat on the land.
"They're three brothers, and we think they're the best farmers in Kansas," Jack said. "It's more difficult for them, but they don't have any problems."
The McCabrias' use of terraces may have raised the value of the land, and it also brought the farm owners recognition.
"(The agency) told me we won the conservation award, and I said, 'Well, what did we do?' They said we'd terraced all that land," Maxine said.
Copyright 2018 The Lawrence Journal-World. All rights reserved. This material may not be published, broadcast, rewritten or redistributed. We strive to uphold our values for every story published.