When Hadley Warwick wrote a paper about quail habitat while working on a degree in biology at Kansas University, it sounded complex.
Decades later, Warwick found out how complicated quail habitats are firsthand.
"Quail are very sensitive birds," he said. "They need five different habitat types, all within walking distance."
On a 63-acre plot south of Lawrence, Warwick has created those five habitats to provide land for the quail he has hunted since his childhood, but all the work he's done has posed one problem.
"I've been a hunter and a fisher my whole life. We came there for the beautiful view of the Vinland Valley," he said. "Now, they're my pets, so I'm reluctant to shoot them."
For efforts to enhance area habitats, Warwick and his wife, Angela, will receive the Kansas Bankers Association conservation award for Wildlife at the Douglas County Conservation District's annual meeting today.
"I guess they have to give an award to somebody every year," Warwick said. "One of the great things that gets me excited about this is to spread awareness of quail conservation and quail habitat. As a side benefit, all the other wildlife benefits."
Warwick, a veterinarian who lives in Prairie Village, purchased the property with Angie in 1999. Warwick's acreage is one part of a divided property dating back to the 19th century and the Underground Railroad.
A portion of Warwick's property has been broken into 2-acre sections. Some of the sections have been devoted to shrubbery such as sandhill plum, American plum and chokecherry. Warwick said he has planted more than 1,200 bare-rooted shrubs by hand.
Warwick said he must pay close attention to the grass and weeds to ensure the quail have the ideal habitat. In addition to disking the grass, Warwick has planted warm-season grasses, which are more native to Kansas.
The warm-season grasses clump and create bare soil, making it easier for quail to travel. Cool-season grass creates more of a carpet over the land, making it difficult for quail to move between habitats, Warwick said.
Warwick, who grew up spending time on family ranches in Doniphan, Butler and Cowley counties, said he has gained quite a bit of knowledge since he began the project.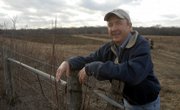 "I've learned a lot just by listening to the quail and seeing what develops. It's not at all what I anticipated," he said. "At first, I thought it was all about the grass, but it's all about the wildflowers, weeds and bare ground."
On the south end of his property, Warwick has worked to develop a wetland habitat along a 70-acre watershed lake, which allows the land to be used for recreational use as well.
"The lake and the land is what Kansas means to me, as you're standing there, listening to the wind blow through the grass," Warwick said.
However, current farming practices have altered Kansas considerably, Warwick said.
"There's been a precipitous change in the habitat of Kansas over the last 50 years that has changed its original character and the wildlife it supports," he said. "Modern farming and the suppression of fire has hurt Kansas habitat, and it occurs so slowly that nobody really notices."
The composition of his land has not only provided habitats for various wildlife but also has recreated a true Kansas habitat, Warwick said.
"Promoting warm-season grasses and shrubs is the cornerstone of getting Kansas habitat back to its original state," he said.
Warwick said the increase in animal activity on his land has proven that point.
"The first two years I had it, it was all bromegrass. I didn't see any of this stuff," he said. "There really isn't a day that I go out there and I don't see something new."
On the land, Warwick said he has seen an array of birds - orioles, bald eagles, indigo buntings and even scissor-tailed flycatcher - and some mammals, as well. He said the quail have been prominent, as well, but several rainy springs have kept the numbers lower than he would have liked.
"You come out here in the springtime, and you can hear them whistling all over," Warwick said.
Copyright 2018 The Lawrence Journal-World. All rights reserved. This material may not be published, broadcast, rewritten or redistributed. We strive to uphold our values for every story published.