Mayor Mike Amyx knew this news was coming.
As a follower of the local real estate market, Amyx has been hearing for months about Lawrence residents struggling to sell their homes.
"You hear the stories over and over again that people aren't getting anything close to their asking price," Amyx said.
Douglas County Appraiser Marion Johnson released projections this week that estimate existing homes in the county likely will grow in value by only 2.5 percent in 2007. That's far short of the historical Douglas County averages of 5 percent to 7 percent per year, and well below the double-digit increases that have been common in many neighborhoods.
Johnson also said some homeowners should be prepared to see their home values actually decline from where they were a year or two ago.
"We probably have had to adjust more values downward than we've ever had to since I've had the job," said Johnson, who has been the county's appraiser since 1991. "For values to go down, it has been rare in Douglas County, for sure."
It all adds up to good news for buyers, bad news for sellers and likely belt-tightening news for elected leaders who rely on property taxes to fund city, county and school district budgets.
"We're going to have to look at all these spending requests we get in a whole new light, or else we'll have to talk about a mill levy increase," Amyx said.
Caught in the middle
While local elected leaders are worrying about what their budgets may look like, Dale Roubison is worried about the here and now.
Roubison has been trying to sell his house at 1309 Stonecreek Drive for 13 months. His original asking price was $365,000, but now it's down to $338,000 for the four-bedroom, three-bath custom-built home. That's $18,000 below the market value the county has placed on the property.
"I had to drop it down because I wasn't getting anybody to offer anything on it," Roubison said. "I think it will bounce back, but I'm stuck in the middle of a bad time right now.
"I had no idea it would take this long to sell. I thought it would sell in a month or two for the price that I was asking."
Most years, Roubison probably would have been right. Historically, homes in Roubison's price range have sold in 30 to 60 days in Lawrence, with lower-priced homes many times taking less than a month to sell.
But in 2006, the average time an existing home stayed on the market was 102 days, with higher-priced homes often taking more than 200 days to sell, according to statistics compiled by the Lawrence Multi-List Service.
Lawrence real estate agents say the moderation is part of a nationwide slowdown in the real estate market. Gary Nuzum, president of Coldwell Banker McGrew Real Estate, said the slowdown was a natural reaction.
"We had five to six tremendous years, and there is just not a lot of pent-up demand," Nuzum said. "That time period really opened the door to home ownership for about anyone who had any aspirations to buy a home at all."
Nuzum also said a brief spike in interest rates caused some potential buyers to stay out of the market, and consumers haven't yet fully realized that interest rates have once again dropped to near historic lows.
Mark Buhler, vice president of Stephens Real Estate, said it also had taken builders a bit of time to adjust to the slower real estate market, plus he said he had seen several people move out of the community to be closer to their children who are working in Johnson County or elsewhere.
"The $200,000 to $400,000 market has taken some licks this year," Buhler said. "Oversupply is part of it. You are seeing a lot of homes in that price range that are being shown that are vacant."
Out of sync
This morning at a a joint meeting of the Lawrence City Commission, Douglas County Commission and Lawrence school board, Johnson, the county appraiser, will attempt to explain what the lower property values will mean to their budgets.
In addition to a moderation in home prices, the taxable value of personal property is expected to decline by 2 percent to 3 percent. That's in large part because of changes by the Kansas Legislature that exempt most pieces of business equipment and machinery. That decline is expected to continue in future years because the Legislature is phasing in the program.
In total, Johnson is estimating the total taxable value of real estate and personal property in the county will grow by 2.5 percent to 3.5 percent in 2007. That will mark new territory for the county.
"It never has increased by that little in the 14 years I've been here," Douglas County Administrator Craig Weinaug said.
In 2006, values increased by 5.6 percent, and the average increase since 2000 has been 7.2 percent.
The moderation comes at a time when the public's demand for government services has done anything but moderate. Local governments are staring at some large-ticket items - everything from new roads and bridges in the county to a new library and recreational facilities in the city.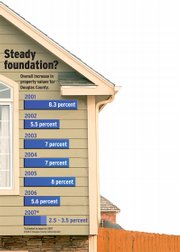 "Usually it is the job of the administrators to give the elected officials the reality of what is on our want list as a community, and then show them what our list of resources are," Weinaug said. "Those two lists are less in sync than they have ever been in the 14 years I've been here."
Elected leaders, especially at the city and the county, can increase their list of resources by agreeing to raise property tax mill levies. But that's always a difficult decision, especially during a year that features what is expected to be a hotly contested City Commission election.
"It would not be my intention to raise the mill levy," said City Commissioner Boog Highberger, who has one of three seats up for re-election. "I think we're going to have to figure out how to make it work."
That was Amyx's view, too. He said the city might have to craft a budget that focuses more on simply keeping up with inflation rather than adding projects or programs.
"The increases we have had in the past have always given us a little bit of room to operate beyond inflation," Amyx said. "Now, we're really going to have to challenge ourselves."
Johnson, though, is cautioning officials that his estimates still are preliminary. He won't have a complete picture of what assessed valuations will total until March.
Other events could improve the budget position for the city. Sales tax revenues could increase at a higher than average rate to offset the slowdown in property taxes, or city commissioners could restart discussions about a new sales tax to help pay for large-ticket items.
Don't panic
Real estate agents also say there is good reason to think that the moderation in prices is only temporary. Both Nuzum and Buhler said they thought business would pick back up in the spring. They said the number of homes on the market has shrunk, helping to balance supply and demand.
Real estate leaders said they fully expected home values to once again start increasing by their traditional 5 percent to 7 percent per year.
"This is just a correction in the market," Nuzum said. "It is not the end of the world."
Buhler agreed.
"This ebbs and flows," he said. "And it helps if people remember that we buy houses in part because they appreciate in value, but we also buy houses because we need a place to live.
"Sometimes people forget everything but the investment side of it. They compare this to buying a stock or bond, but you can't live in a stock or bond."
Some government leaders also said the moderation in prices probably wasn't all bad, as long as it doesn't turn into actual widespread decline in prices.
"It has a negative impact on local governments," Weinaug said. "But I have teenage children and I sometimes wonder how they are going to be able to buy a house here."
Copyright 2018 The Lawrence Journal-World. All rights reserved. This material may not be published, broadcast, rewritten or redistributed. We strive to uphold our values for every story published.