Snow and ice in West Texas hardly come close to being the most unusual sight this week on the Big 12 landscape.
For a real shocker, take a look at the men's basketball standings, starting at the top, and be assured that what you see is not a typographical error.
That entry next to Texas A&M; claiming the Aggies are 4-0 and the only unbeaten team in conference action is correct.
The breathtaking transformation in Billy Gillispie's third season as head coach in this one-time hoops wasteland continues to unfold. After dismantling No. 12 Oklahoma State, 67-49, on Saturday before a Reed Arena-record crowd of 13,187, the Aggies are leading the Big 12 for the first time since the conference was formed.
Combined with Texas Tech's 69-64 victory over No. 5 Kansas, it means the Aggies - for this week at least - are in the lead. Right behind at 3-1 come Kansas, Texas Tech and Texas.
While this may be the same school that just three years ago staggered home 0-16, it's not the same team, and it is most certainly not the same feeling that's percolating throughout the entire program.
Just ask Acie Law, one of two players left from that pitiable winless campaign of 2003-04 that led to Gillispie's grand entrance.
"It's a long way to go, but it feels good," said Law. "We've come a long way as a program, but we still have a lot of work to do."
The 18th home win in a row for the Aggies (16-2 overall, 4-0) marked their best start to a conference season since the 1993-94 team went 7-0 in the Southwest Conference.
The Cowboys (16-3, 2-2) were just a few days from their triple-overtime 105-103 victory over Texas, a game that will probably go down as the best of the year in the Big 12.
But Mario Boggan, who scored a career-high 37 points and 20 rebounds against Texas, was harassed all day by Joseph Jones, and Antanas Kavaliauskas and wound up with only 11 points.
Could the No. 8 Aggies in just three years vault from 0-16 to 16-0? It's extremely doubtful, of course. They still must take to the road and travel to Texas, Oklahoma State, Kansas and Texas Tech. And road wins are about as rare in the Big 12 as Bob Knight's warm, friendly smiles.
But if the Aggies ace a big road test Wednesday at Knight's Texas Tech, at least a few fans may start to dream.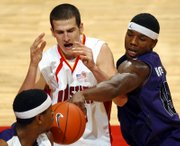 Kansas State, given up for dead just a week or so ago, seems to be the only Big 12 team that knows how to win on the road.
The Wildcats beat Iowa State, 69-60, Saturday for the only road win in the league this weekend and their sixth victory away from home this year. That's tops among all Big 12 teams.
Kansas saw its 10-game winning streak evaporate because Knight's Red Raiders did exactly what Jayhawk coach Bill Self said last week that they are so capable of doing. They ran their motion offense nearly flawlessly.
And maybe it's true what they say that Knight can work wonders when given a few extra days to prepare. This squad that stunned the nation's fifth-ranked team was the same Red Raider outfit that got thumped by Baylor.
No. 21 Texas, the other participant in that unbelievable triple-overtime affair, also had a tough time in its next outing.
Not only did the Longhorns lose at Villanova, 76-69, but Kevin Durant was made to look like just another face in the freshman crowd, not the superman he has seemed in dominating the Big 12.
After averaging 34 points the last four games, Durant was just 4-for-15 from the field and missed all six of his shots in the second half and wound up with 12 points.
While high-flying Texas A&M; is selling out, they're having to give tickets away at Oklahoma.
Students got into the Lloyd Noble Center for free Saturday, and the announced crowd still numbered only 6,057.
But they did see a show. The Sooners improved to 11-6 and 3-2 with a 91-51 thumping of Baylor, their widest margin since routing Norfolk State on Nov. 10.
"The crowd was wonderful," said Oklahoma's Michael Neal. "It was a lot of fun playing for them."
Said coach Jeff Capel, "That may have been as complete a game as we've played all year, against a good team. I thought our guys were really, really good."
Aleks Maric scored 28 points for Nebraska as the Huskers handed Colorado a 71-50 defeat.
Copyright 2018 The Associated Press. All rights reserved. This material may not be published, broadcast, rewritten or redistributed. We strive to uphold our values for every story published.