Photo Gallery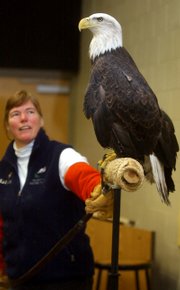 Eagle Day
A trio of 11-year-olds waited in eager anticipation of the main attraction Sunday afternoon: two eagles - one bald, one golden.
Nick Ganz, Sean Potter and Austin Sinclair, all of Basehor, came with Austin's dad, Jeff, to check out all that the 11th Annual Kaw Valley Eagles Day had to offer.
There were snakes and insects, crows and hawks, along with crafts and informational booths that convinced several hundred people to come out despite the snow for an opportunity to learn more about animals and the environment.
Typical of an 11-year-old, Nick most liked the bald eagle's ornery behavior as handler Marty Birrell tried to take it out for display. As the crowd waited, oohing and ahhing as the bald eagle spread its impressive wings, Birrell wrangled with the bird, which at one point ended up upside down.
Event organizer Joyce Wolf said that while the crowd was smaller than usual, everyone was pleased with the number who attended, especially in light of the weather. Wolf said the activities and displays were a hit.
"There's lots of different groups here that have things for kids to do," she said. "You can see little bodies all absorbed in what they're doing."
Among the crafts was one from the Natural History Museum at Kansas University that asked kids to create a structure capable of holding a golf ball from marshmallows and spaghetti noodles.
Far and away, though, the most popular attractions were the animals on hand from Prairie Park Nature Center. Along with the golden and bald eagles, nature center staff brought a red-tailed hawk, crow, king snake and several insects.
The eagles were displayed inside a room for about 100 interested individuals, about evenly split between youngsters and adults.
Sarah Okonski brought her son, Hudson, 5, to see the eagles.
"We've been to Prairie Park before and seen the animals. He really likes wildlife," she said.
Jeff Sinclair said he decided to bring the 11-year-old boys to the event after reading about it.
"It's not all that often you get to see them in person. It was a good program," he said.
Austin and his buddies agreed. Austin's favorite part? The bald eagle.
"I liked it when he would open his mouth. He would stick out his tongue and you could see it," he said.
Copyright 2018 The Lawrence Journal-World. All rights reserved. This material may not be published, broadcast, rewritten or redistributed. We strive to uphold our values for every story published.