Move over, Swiss Miss: Hot cocoa has shed its once-dowdy image.
There's nothing hotter than chocolate in the world of food trends right now. Propelled by studies spotlighting the antioxidant power of dark chocolate, consumers are going gaga for high-cocoa-percentage chocolate from exotic lands. The upscale-chocolate market has exploded, with the number of brands growing from 89 in 2000 to 358 in 2004, according to market researcher Packaged Facts.
As part of that trend, cocoa sales are getting healthier, and our childhood cuppa Ovaltine has gotten a designer makeover.
Chic chocolatiers such as MarieBelle in New York and Vosges in Chicago are serving up exotic cocoa drinks at hip hot-chocolate lounges. Among powdered hot-chocolate mixes, the market is seeing names like "Dark Chocolate Truffle," "European Cafe Style," "Maya Gold" and "Aztec Elixir." Ingredients such as organic raw cane sugar and Tahitian vanilla beans are showing up on labels. And spices and flavorings such as ancho and chipotle chiles, cinnamon and orange are being added to the brew.
We're talking extreme hot chocolate here.
Bill Paladino, director of gourmet foods for the online retail giant Amazon.com, notes that the American appetite for ever-darker, ever-richer European-style chocolate is paralleled by a focus on the cocoa beans' pedigree.
"Along with the interest in the higher percentage of cocoa, the origin of the chocolate is becoming of interest," Paladino says.
"It's almost becoming like wine."
Paladino, who says he began noticing rising demand for hot-cocoa products about three years ago, says the exotically spiced blends are coming on strong. He added that traditional Mexican-style hot chocolates such as Ibarra also are hot sellers.
"The flavors are becoming more complex with the spices," he said, citing the Azteca D'Oro 1519 Mexican Spiced Chocolate - flavored with cinnamon, vanilla and almond - as an example that's getting a lot of hits on the Web catalog.
Other top sellers, he says, are Ghirardelli's Double Chocolate and Godiva's Dark Chocolate Truffle cocoas, along with the higher-end Les Confitures a L'Ancienne from France and the Chicago-based Vosges.
Meanwhile, at the supermarket, names that used to be considered the province of gourmet markets, such as Ghirardelli, are sharing shelf space with old favorites such as Hershey's and Nestle.
Making your own
You don't necessarily need to shop the hot-beverage aisle to have a satisfying cup of hot cocoa, though. Hot chocolate you make yourself from melted baking chocolate or unsweetened cocoa powder can be superior to premixed cocoa powders, many of which contain powdered milk and undue amounts of sugar.
If you make it yourself, you can use whatever kind and quality of chocolate or cocoa you prefer, sweeten it to suit your personal taste and mix it with milk instead of water.
One helpful tool in making hot chocolate - whether from scratch or from a mix - is a whisk, to help incorporate the chocolate into the milk as it melts.
"The All New, All Purpose Joy of Cooking," by Irma S. Rombauer, Marion Rombauer Becker and Ethan Becker (Scribner, $35), notes that "in the United States, we like the soothing character of milk and are accustomed to a relatively thin cocoa about the consistency of milk," whereas "Italians like a very dense cocoa and thicken it with cornstarch," and French hot chocolate "is a much richer, sweeter beverage than cocoa."
The French chocolate recipe, which "Joy" describes as "an opulent liquefied confection," requires a two-step process with some tedious sieving, but it would be a lovely special drink to serve for an elegant brunch or on a cozy Valentine's Day evening.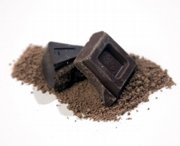 American hot cocoa
Should you feel like experimenting with spices, you could add tiny amounts - start with mere pinches - of ground cinnamon, allspice or cardamom, or of ancho or chipotle chile powder, to the cocoa and sugar mixture.
1 tablespoon unsweetened cocoa
1 teaspoon sugar
3/4 cup milk
1/8 teaspoon vanilla extract, or 1/2 teaspoon Kahlua or Grand Marnier
Ground nutmeg or cinnamon for garnish (optional)
Whipped cream or marshmallows for garnish (optional)
Stir together the cocoa and sugar in a small, heavy saucepan.
First by tablespoons and then in a slow, steady stream, vigorously stir in the milk.
Heat, stirring constantly and scraping the bottom of the pan, over medium heat just until bubbles appear at the sides. Remove from the heat and stir in the vanilla or liqueur.
Serve in a deep, narrow chocolate cup to retain the heat, and top with desired garnishes.
Makes 1 serving.
Source: Adapted from "The All New, All Purpose Joy of Cooking"
FRENCH HOT CHOCOLATE
Serve this in small hot-chocolate or demitasse cups, not regular-size coffee cups or mugs. You can keep the chocolate concentrate in the fridge and measure out single portions when you want a cup of hot chocolate.
Chocolate concentrate:
1 cup light or heavy cream
8 ounces bittersweet or semisweet chocolate, cut into 1/4-inch pieces
Hot chocolate:
1/4 cup chocolate concentrate for each serving (1 1/2 cups total, if you are making hot chocolate for 6)
1/4 cup milk, water or coffee for each serving (1 1/2 cups total, if you are making hot chocolate for 6)
1/8 teaspoon vanilla, or 1/2 teaspoon Kahlua or Grand Marnier
Ground nutmeg or cinnamon for garnish (optional)
Whipped cream or marshmallows for garnish (optional)
Chocolate concentrate:
In a medium-size, heavy saucepan, bring the cream to a rolling boil. Immediately remove from the heat and whisk in the chocolate pieces until they melt completely.
Strain the mixture through a fine-mesh sieve or tea strainer, pushing it through with a rubber spatula or wooden spoon. The chocolate concentrate can be kept in the refrigerator up to 10 days.
Hot chocolate:
Stir together the chocolate concentrate and the milk, water or coffee. Heat over low heat, or in a microwave on high for 45 to 60 seconds, until warm but not boiling. Stir in the vanilla or liqueur, pour into cups and top with desired garnish.
Nutritional analysis per serving, using light cream and 2 percent lowfat milk: 212 calories, 22 grams fat, 11 grams carbohydrates, 4 grams protein, 4 milligrams cholesterol, 12 milligrams sodium, 3 grams dietary fiber, 76 percent of calories from fat.
Serves 6
Source: Adapted from "The All New, All Purpose Joy of Cooking"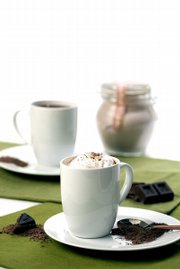 WHEN TO SIP IT
Americans are accustomed to hot cocoa as a treat on a winter evening, and you certainly can't beat its coziness quotient at such times. But think outside the chocolate box for other cocoa opportunities:
¢ Do as the Europeans - especially the Spanish - do: Drink hot chocolate for breakfast instead of coffee. The Spanish love it with churros, fried pastries that are traditionally dunked in the hot chocolate. If you make the hot chocolate the night before, you can refrigerate it and heat it up in the microwave in the a.m.: perfect for lingering over a croissant or other pastry and a newspaper on a lazy weekend morning.
¢ Offer it as an intriguing alternative to coffee at a brunch party, or as an option at an afternoon tea gathering.
¢ Top it with liqueur-spiked whipped cream and serve it in lieu of dessert after an elegant dinner.
¢ You can even set up a hot-chocolate bar for a party, with a heat-retaining carafe of hot chocolate, a big bowl of softly whipped cream, bottles of liqueurs for guests to create their own custom coffee drinks and shakers or dishes holding various toppings. A tiny crystal saltcellar could cradle a whole nutmeg, for example, with a small grater on the side for guests to grate their own.
¢ Other garnish ideas: a shaker of powdered cinnamon, or a bundle of small cinnamon sticks to use as stirrers; miniature baking chips (consider mint or butterscotch); chocolate curls or shavings; crushed or whole candy canes or other hard candies; crushed pralines; chocolate-covered espresso beans or instant espresso powder. OK, OK - mini-marshmallows, too, and a cache of chocolate-dipped orange peel or candied ginger would be perfect on the side.
Copyright 2018 The Lawrence Journal-World. All rights reserved. This material may not be published, broadcast, rewritten or redistributed. We strive to uphold our values for every story published.