Berlin — Workers across Europe hauled away fallen trees and repaired power lines Friday after the deadliest storm to strike the continent in eight years killed at least 47 people and caused hundreds of millions of dollars in damage.
Trains started rolling again after a near-total shutdown during Thursday night's hurricane-force winds. Airports from London to Frankfurt reported some delays and cancellations, but were returning to normal.
The disruption hit countries from Britain to Ukraine, where the flow of Russian oil through a key pipeline to Europe was temporarily halted after power to a pumping station was knocked out.
The storm knocked out electricity to more than 1 million homes in the Czech Republic, which was hit by winds of up to 112 mph. Ladislav Kriz, spokesman for the main Czech CEZ utility, said Friday night that power was restored to most of the homes, although about 170,000 customers were still without electricity.
One million households in Germany and tens of thousands of homes in Poland and Austria also lost power.
EDF Energy in Britain said Friday it had restored power to more than 90 percent of the 350,000 customers cut off the night before, while Scottish Power said about 30,000 of its customers remained without electricity.
Stormy weather had been predicted this year for parts of Europe, with researchers saying unusually high temperatures in the North Atlantic would allow winds to accumulate more moisture and surge in energy.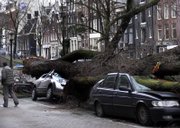 The storm killed 14 people in Britain, 12 in Germany, six each in the Netherlands and Poland, four in the Czech Republic, three in France and two in Belgium.
Most of those killed were motorists. However, the victims also included two German firefighters; an 18-month-old child in Munich hit by a terrace door ripped from its hinges; a toddler killed in London when a brick wall collapsed on him; and a Polish crane operator killed when his crane broke in half.
It was the highest death toll from a European storm since 1999, when gales downed trees and driving snow brought on avalanches, killing more than 120 people.
Copyright 2018 The Associated Press. All rights reserved. This material may not be published, broadcast, rewritten or redistributed. We strive to uphold our values for every story published.