The way Lavern Squier figures it, anyone who wants to get somewhere better know where he or she - or an entire community, for that matter - is going.
That's why tonight, the Lawrence Chamber of Commerce will unveil a year's worth of consensus-building work designed to give the Lawrence area a goal, a target, a direction.
A vision.
"Absent a vision : a community tends to suffer," said Squier, the chamber's president and chief executive officer, who describes such communities as "rudderless."
"What we need is a vision: What does it look like? How does it feel like? And how does it maintain itself?"
Designed to help locate answers to such questions will be the community vision, billed as the central theme for tonight's chamber annual meeting.
The event starts at 6 p.m. at Liberty Hall with a brief social gathering, followed by an awards program and a presentation, "The Art of Vision," by consultant Erik Wahl. The meeting shifts at 8:30 p.m. to the Eldridge Hotel for a reception.
The event traditionally gives the chamber's 1,200 business members, whose representatives bring the roster to 1,700 people, a chance to recognize past accomplishments, thank leaders for their service and look ahead to another 12 months of progress.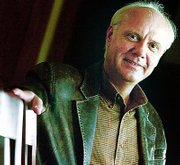 Formal appeal
A year ago, incoming chamber Chairman Pat Flavin sported a tuxedo as he took the stage and called upon chamber members to seek out a vision, one critical to the community's very survival.
Today, after a term spent studying other communities, reviewing planning documents, gathering input from community leaders and soliciting ideas from each and every chamber member, Flavin is confident that the latest version of "the vision" will help Lawrence move forward.
Even if the document isn't done yet.
"The community yearns for this," said Flavin, who is president, managing broker and co-owner of Lawrence Realty Associates, Baldwin Realty Associates, Eudora Realty Associates and Topeka Realty Associates. "I think there is a pervasive desire for Lawrence to do and be better than we are now. : There is a disappointment in the community that we'd kind of failed ourselves, and let ourselves get off track, and lost some of the atmosphere that we've had. :
"A lot of people think we've hit a time tipping point - to regroup, get a general consensus about where we're going and to move forward."
The evolving vision, so far, covers three key areas, according Joan Golden, who takes over as chamber chair during tonight's meeting:
Meeting tonight
The Lawrence Chamber of Commerce's annual meeting starts at 6 p.m., January 19, at Liberty Hall with a brief social gathering, followed by an awards program and a presentation, "The Art of Vision," by consultant Erik Wahl. The meeting shifts at 8:30 p.m. to the Eldridge Hotel for a reception.
¢ Distinct spirit and atmosphere, such as fostering and promoting strong neighborhoods and respecting the city's distinctive history.
¢ Superior amenities, such as providing affordable housing, a good education system and the importance of health care.
¢ A robust economy.
Combining such components into a single vision for the community shouldn't be all that difficult, she said.
"(It) is very centrist - that is, very, I like to say, 'apple pie and motherhood,'" said Golden, senior vice president for development at U.S. Bank in Lawrence. "It's what's good about everything."
Planning ahead
The push toward a vision has been brewing for years, and it previously spawned at least two major consensus-building efforts:
¢ Horizon 2020, an effort that drew more than 400 participants to formulate a detailed long-range planning guide for land use in Lawrence and Douglas County.
¢ Eco2, an effort to bridge the gap between advocates for open-space preservation and supporters of economic development. The Eco2 effort grew out of one of the most visible blunders in the community's recent economic-development history: American Eagle's attempt to build a $45 million distribution center on 87.7 acres adjacent to the East Hills Business Park, only to see the plan collapse under pressure from opponents who hammered the company's pay scale and proposed location on land considered prime for agricultural development and other concerns.
The American Eagle project - which surfaced with promise for a new source of future tax revenue, creation of hundreds of jobs and positive outlooks for related developments - ended up embroiled in technical rulings, bitter debates and, ultimately, a company's decision to opt for an alternate site in Ottawa.
"It became so interpretive," said Squier, who hadn't even come to Lawrence yet. "It hadn't been really worked through ahead of time : and that really came up and bit us."
So now, after a year of meetings with stakeholders - from the Lawrence school district to KU, Haskell Indian Nations University and a variety of other businesses and organizations - the chamber's visionaries have mulled issues past and present, and settled on what common ground might be available for the community to share.
The next step: Taking the information to the Lawrence City Commission, whose members already have participated in the process by helping commission a team of architects to study the community's strengths and weaknesses for a companion report.
What's ahead
Commissioners will be asked to review the chamber's vision, then embrace it as a living document - one that chamber leaders already believe encapsulates all that is good about the Lawrence area, and what its residents, leaders and others need to keep in mind when making decisions about matters that will affect its future.
"We're looking for a blessing, if you will, by city leadership - that. 'Yes, let's go forward,'" Flavin said.
Adds Squier: "We want to have progress made, and not just progress for progress' sake. We need to get this deal done."
Golden, for her part, sees the project as a starting point that already comes with a head start on many previous efforts. It's a chance to start the dialogue from a point of real focus, and one that stands a good chance of holding strong well into the future.
"I think that the fact that there's been some effort to at least get some thoughts on paper is good," she said. "This visioning process is going to go forth for the next year or longer, but at least there's something on paper from which we can at least discuss: Is this what we want this community to be?
"Right now, we don't have anything written on paper, up to this point, so everybody just speculates. And I think that's one reason we're so disjointed, is because we all don't know what that common goal is that we want to work on."
Lawrence vision
Here is the vision blueprint prepared by the Lawrence Chamber of Commerce that advances proposals for where the city and area should focus their attention:
Lawrence Vision: To be a vibrant and economically healthy community that satisfies the most important needs and desires of our citizens and is recognized as one of the finest university cities in which to live and work. Achieving this vision will require that Lawrence excel along three critical interdependent dimensions:
1. Distinctive spirit and atmosphere: ¢ A diverse and engaged citizenry, committed to civil discussion ¢ A forward-looking, positive spirit of possibilities and empowerment. ¢ Respect for Lawrence's distinctive history and traditions. ¢ Aesthetically pleasing community that values open space and historical buildings. ¢ Strong neighborhoods with active, informed citizens.
2. Superior amenities: ¢ Accessible, high-quality health care ¢ Inclusive, high-quality education ¢ Superior recreational opportunities and facilities ¢ Consumer options that satisfy Lawrence citizens and attract others ¢ A wealth of opportunities for arts and cultural enrichment and engagement ¢ A vibrant, economically healthy and diverse downtown
3. Robust and sustainable economics: ¢ A thriving, competitive business environment that generates satisfying job opportunities for current and future citizens ¢ A sound tax base appropriately balanced among all sources ¢ Wages and incomes that foster individual opportunity and choice. ¢ A well-developed and maintained infrastructure.
Copyright 2018 The Lawrence Journal-World. All rights reserved. This material may not be published, broadcast, rewritten or redistributed. We strive to uphold our values for every story published.