Miles Schnaer, like any businessman, is gratified whenever his efforts are recognized with some kind of award or honor.
And that's certainly how he felt when his Crown Chevrolet/Toyota/Scion dealerships won the Excellence in Commerce Award for retail and hospitality last fall.
But, he's quick to add, awards are the byproduct - not the goal - of operating a business.
"The thing is, awards are bonuses based on doing business the right way," said Schnaer, owner of the Crown franchises at 3400 Iowa.
"I appreciate winning these kinds of things, but those are not our goals. I think that the Excellence In Commerce Award is really a tribute to the people who work here. They're the ones who win the awards. I just get the opportunity to accept them."
Schnaer says he appreciates the good work the Lawrence chamber does in the city.
"Small business is the heartbeat of a town, small business is what makes it go, and the chamber represents the business voice in this community. There's a lot of communication between the chamber and the city; they work together. As we grow, as the city grows, the chamber has a stake in that success."
During the past five years, Crown's sales have increased by 48 percent, and its staff has grown from 60 to 90 associates.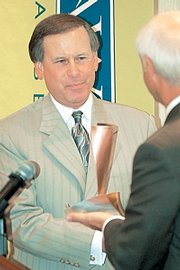 Schnaer bought an additional 6 acres of property, creating a roughly 12-acre site, in order to complete a major expansion in 2005.
Crown renovated the former home of Payless Cashways, 3434 Iowa, then moved its Toyota/Scion operations from a 9,000-square-foot space into a 75,000-square foot-facility.
That included doubling the size of the previous body shop and outfitting it with all new equipment.
Crown also added a Scion franchise and hybrid vehicle sales and service departments, as well as an indoor used-car showroom.
Crown moved into the new facility in June 2005; Schnaer has estimated the cost of the project at $3.8 million.
The investment seems to have paid off: His sales associates sell more than 250 vehicles there per month.
Crown Chevrolet/Toyota/Scion is heavily involved in the Lawrence community. It's a big part of Schnaer's philosophy of doing business.
Schnaer and his associates support more than 20 local groups, such as Cottonwood Inc., Bert Nash Community Mental Health Center, Lawrence Memorial Hospital, United Way and American Red Cross.
More exciting things are on the way for Crown, according to Schnaer.
"I think there's a lot of great things coming," he says. "We're remodeling the Chevrolet building at this point, spending money doing that so customers can have a nice place to come to and our employees can feel just as proud of that building as they do our Toyota facility."
Copyright 2018 The Lawrence Journal-World. All rights reserved. This material may not be published, broadcast, rewritten or redistributed. We strive to uphold our values for every story published.