Joan Golden, an executive for U.S. Bank in Lawrence, officially starts tonight as chairwoman of the Lawrence Chamber of Commerce.
She agreed to discuss her background and goals for the 1,700-member organization.
Q: How did you became involved in the chamber, and what led to becoming chair?
A: We moved to Lawrence in 1972, and I started becoming a community volunteer at that time. I had a neighbor that was very involved, and she quickly introduced me to a lot of people, and I guess that the first thing that I did, in 1974 or '75, I managed Nancy Hambleton's legislative race, and so that was my first introduction to working within a public domain, and helping a candidate and volunteering.
Over the years I've had an extremely lucky opportunity to be involved with a lot of different organizations that are so important to our community.
I was on the Lawrence Memorial Hospital board of trustees for two terms and chaired that.
I was chair of the United Way campaign and president of that board, so now evolving into the chair of the Lawrence Chamber of Commerce is, it seems like it's kind of a natural progression of the ability to stay very engaged and active in the community.
I became involved with the chamber of commerce back in 1984, when I began working with U.S. Bank - at that time it was First National Bank - and this organization believes strongly that it's important for its officers to be engaged and active in the community. We want to give back to the community, because the community, over all these years, has been very good to us as an organization, so they're very generous in allowing all of us to have the time to take away from our jobs and work actively on different committees and within the community.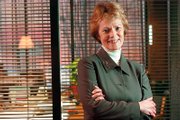 Q: You've organized meetings, chaired committees and set up events for the chamber, but how different will it be to be chair for the entire chamber? How does that change things?
A: I think that it's just a bigger committee, if you will. There is a wonderful board of directors. There are 24 individual community members, representing all aspects of our community, with which I'm able to meet and work with, and they all bring a different perspective to the organization.
They are fulfilling three-year terms. They are volunteering their time, and they are the ones that provide different perspectives on any of the issues that the chamber is discussing, so it's just a big committee that you're able work with, and you're able to rely on very good input from each of them.
Q: So, as you start your term as chair, what's your plan, your goal, your hope? What is it that you'd like to see accomplished this year?
A: The 2007 business plan for the Lawrence Chamber of Commerce is fueling a healthy business economy, and there are five areas that we will be looking at:
â Advocacy on behalf of all of our chamber members. We have 1,200 business members, of which there are 1,700 participating members.
â Engaging the membership. We want to engage those members in all sorts of committees and seminars and task forces that will be created for them to become involved with.
â We want deliver the chamber message. We want to do a good job of communicating what the chamber is doing, not only to our membership, but also to the community.
â We want to market our community, which happens through the economic development that Beth Johnson (the chamber's vice president for economic development) is so active in, in the region.
â And then, finally, we want to build alliances. And I think it's evident over the last few years that the chamber of commerce has built good alliances with the city and county and are collaborating on different projects, such as the new bioscience effort."
Q: Many of these goals and plans have been talked about for years. What makes this year different?
A: I would like to think that maybe the stars are lining up correctly. With the work of the last few years with Lavern Squier here, as our CEO, that Shirley Martin-Smith and Pat Flavin, as past chairs, they have really built a solid foundation, in creating an atmosphere of collaboration, I think, between the city and the county in recognizing the importance of economic development, creation of jobs, affordable housing and making sure that we can continue having a strong education system in our community.
And so I think that going forward we're going to be able to see this all just building strength, and things being a little bit more positive for everybody in the community.
Q: Earlier, you mentioned the bioscience effort, which certainly calls for plenty of collaboration - with the Kansas Bioscience Authority, the city, the county and others working together to turn a building at the East Hills Business Park into an incubator for bioscience operations. How important is this project?
A: I think it's extremely important. We are blessed with a nationally recognized university that has a wealth of knowledge and research within its walls, and by having this lab now - a wet lab - we have the wherewithal to retain those incubator and new businesses that are created out of the research that is done at the university and keeping it here in Douglas County and not allowing it to go to the Kansas City area or the East Coast or to the West Coast.
It's something that we've needed for a long time. We've talked about wet labs for a long time, and thanks to the Kansas Bioscience Authority, and then the city and the county, we are able to make that happen. And the chamber of commerce played a strong role in facilitating all of that happening.
Q: So, what's the next collaboration?
A: I would see some development with (the former fertilizer plant operated by) Farmland (Industries). That is a really nice, large plot of land, and we really need to work together with the city and county to determine what the best use of that land is and make sure that something is happening out there in the near future, too.
Q: That's another issue that's been lingering in the community for several years. At the end of this year, what can people expect to see change out there on that site in southeast Lawrence?
A: I think there is a need for a stronger economy in Lawrence and Douglas County, a tax base that is broad-based, so that we can relieve some of the property-tax burden that so many of our citizens, the citizens on fixed incomes are feeling.
And over the last few years that has become more of a concern, and I think more people are realizing that it is more important, and that we start - or do something - to enable more business development to occur in Douglas County.
We hit kind of a lull after the fill-in of the East Hills Business Park during the '80s and '90s. And we've been kind of at a standstill in any new business coming to Lawrence, and now I think people have a sense of urgency that we need to get the infrastructure in place. And the city and the county can work together to make that happen.
Q: For the past year the chamber has been working on creating a community "vision." This discussion comes after years of people talking about the need for more jobs, a broadened tax base, more affordable housing, the need to retain high-tech companies in the community and other such issues. Are these the kinds of topics to be covered in this vision, and how might that change the discussion?
A: The Lawrence Chamber of Commerce, for the last two years, has had a lot of meetings where we are looking at a vision. What is the vision of the community? What are our priorities? What do we want? What do we want to do?
We need a common ground from which to make our decisions.
I think that one reason that the chamber has pursued that so intently, the last 12 months, with getting together the different stakeholders, is because we felt like we needed to have a statement from which we all can base our decisions on, make our decisions on and have our dialogue based upon.
We all have this idea in our minds. If we finally are able to verbalize what that is - have it on paper, have it be our road map, have it be our litmus test for every big decision that's coming along - that if we make this decision, how will it affect what our vision is for this community, I think that we'll be able to move on down the road a lot quicker than with everybody trying, "Well, mine is this way, and mine is that way."
Q: Does everyone share this same idea? What are the prospects for coming up with one shared, unifying vision that everyone can agree on?
A: I think that what we have been working on, based on the input from all the different stakeholders, we are able to have a vision that is very centrist, that is very, I like to say, "apple pie and motherhood." It's what's good about everything.
And I think that it does reflect what we can only hope for our community. And the different issues and the different areas that we want to look at specifically, those fall into the three categories:
â A robust economy;
â Superior amenities, which covers affordable housing, a good education system, the importance of health care;
â and the distinct spirit and atmosphere - our wonderful neighborhoods, our strong downtown.
All of those things are what anybody, I think, wants for our community. So I think that certainly is the spirit by which the vision has been drafted and discussed within the chamber and the stakeholders.
Q: Is it really that easy?
A: Maybe it can be best said this way: In order for us to have a community that we all want to live in, we need to have one of those three areas be strong and positive.
And if we have a robust, sustainable economy, then we automatically are going to have superior amenities. And if we have superior amenities, it's going to automatically draw businesses, and people are going to want to live here, and we're going to increase our tax base.
So it's capsulizing the thought that if we can sustain a strong economy, and sustain and retain our spirit and attitude, and if we can then make our amenities - housing and health care - the best they can possibly be, then we will be a community that anyone would want to live in and move to.
Q: That's not the case now?
A: I think it is, but it is a case that many of us want to live here, but unfortunately we haven't made sure that we have affordable housing. We have some things we need to be working on. We need more affordable housing. We have a lack of jobs in this community, so that a certain percentage are having to commute in and out and we're slowly becoming a bedroom community.
And I think that what we want to do is just make sure that we have jobs that provide good incomes for families to live in Lawrence, Kansas, so that they don't have to leave the community to work. We know they like to live here, because they make the choice of living here. But we want to provide jobs and make it possible for them also to be living here and engaged in the community a hundred percent."
Q: Do you think everybody will buy into this vision?
A: It will at least enable the dialogue. When I was working in marketing for the bank, I always just put - you just want to get some thoughts down on paper, and then you want to share it with people. The red pen never made me feel bad.
So I think that the fact that there's been some effort to at least get some thoughts on paper is good.
This visioning process is going to go forth for the next year or longer, but at least there's something on paper from which we can at least discuss: Is this what we want this community to be?
Right now, we don't have anything written on paper up to this point, so everybody just speculates. And I think that's one reason we're so disjointed, is because we all don't know what that common goal is that we want to work on.
Copyright 2018 The Lawrence Journal-World. All rights reserved. This material may not be published, broadcast, rewritten or redistributed. We strive to uphold our values for every story published.