Philadelphia — The stakes have changed for Greg Oden since he discovered the game, as a fourth-grader in Terre Haute, Ind.
Oden, by all accounts, has never changed. His game? That has changed.
Jimmy Smith is the executive director of the Terre Haute Boys and Girls Club. Shortly after Oden's parents split up and Oden's mother moved from Buffalo, N.Y., to Terre Haute, Smith became Oden's first coach. Oden is like a member of the Smith family.
"Greg was just a tall, lanky, skinny kid," Smith remembered. "He had never played before. He had no idea whatsoever on how to play the game of basketball. It was really kind of funny at the time."
The legend is that Oden's first basket came in the other team's hoop. Smith doesn't remember that because, "I don't remember him playing a lot in fourth grade."
Oden remembers that first basket. He also remembers that he had no knowledge of the relative difference between his team's basket and the other team's basket.
"I just saw a hoop and put the ball in it," Oden said. "I was pretty excited."
Smith was coaching a travel team. The best players played. Oden was not one of them.
"He learned a lot in practice," Smith said. "And he was playing with some really good players."
Oden is the 7-foot, 280-pound freshman center at Ohio State. He will turn 19 next week. If not for an NBA rule change that said high school players could no longer apply for the draft, Oden almost certainly never would have set foot in Columbus, where he is one of 52,000 students, standing out from even that crowd.
"Greg kind of came into his own in the sixth grade," Smith said.
By then, Oden was 6-2. He was 6-8 as an eighth-grader. Smith did not just tell him to go to the low post. He taught all his players, including Oden, all the skills.
"He was very eager to learn," Smith said. "He became more or less my adopted son."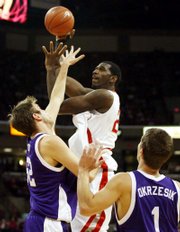 Oden won three consecutive Indiana state titles playing for Lawrence North in Indianapolis. His point guard then and now was Mike Conley, son of the 1992 Olympic triple-jump champion of the same name. Lawrence North was 103-7 during Oden's career. His AAU team, coached by Mike Conley Sr., rarely lost either.
"He'll be special because he's so big, he's so long," one NBA scout said. "One thing I noticed about this kid is that he has great patience. A lot of young players, they want to score 20 points on one possession."
Oden, the scout said, waits for the double team. If it comes, he passes the ball out. If it doesn't come, he works his way to the rim, where he usually dunks with such force that you know nobody is going to want his hand up near the basket for fear it will get crushed. He doesn't just block shots. He often controls the ball, like Bill Russell or Bill Walton.
"He's like a great winner," the scout said. "He's content scoring six, eight points, but dominating the game blocking shots, rebounding. He affects the game without having to score."
Unlike so many of his contemporaries, Oden only looks at the scoreboard to see the score, not the points he has scored.
Is there any doubt Oden will be the first pick?
"No doubt," the scout said.
At a recent college game, this scout was talking to another scout from a team that has been missing one of its better players for weeks, wondering when the player was coming back.
"We ain't rushing him," the scout said. "We're in the Oden sweepstakes just like all the rest."
Is there any chance Oden won't declare for the draft?
"He'd be crazy to," Smith said with a laugh. "When I talk to Greg, I tell him you go to college to get an education to make a living. For him, he can always get his degree. I think he's ready."
Smith played at Indiana State when his team played against West Texas State and its point guard, Maurice Cheeks. Smith is fully aware what Cheeks does these days.
Copyright 2018 The Lawrence Journal-World. All rights reserved. This material may not be published, broadcast, rewritten or redistributed. We strive to uphold our values for every story published.