With the wide-ranging interests and investments in agriculture in Douglas County, those in the business say it's best to have a forum where ideas and concerns can be discussed.
So in November 2002 agricultural leaders and business types restarted the Agribusiness Network through the Lawrence Chamber of Commerce.
"I think it's been a benefit. We've seen some things accomplished that will help agriculture in the community," said the group's incoming chairman, Bill Wood. "I think our county commissioners and elected officials and city officials have seen some of the good things we've done and appreciated our input."
The group meets once a month and aims to facilitate conversation between those who work in agriculture, industry and the chamber, said Wood, a Douglas County Extension agriculture agent.
Wood takes over this month for last year's chairman, Bob Rhoton, a financial service officer for Frontier Farm Credit. The group meets at 7 p.m. the third Monday of each month at the chamber office.
This month, because of Martin Luther King Jr. Day, the meeting will be Jan. 22.
Wood said the group aims to serve the broad agricultural interests in the county, including farmers, organic farmers, ranchers, agricultural lenders and those involved with soil conservation, the Extension Office and the farm bureau.
"The reason for us (having a network) is just to try and have some rapport in the agriculture community," he said.
Other than advocating for agribusiness and economic development, the group also offers events and forums to educate the public about agriculture.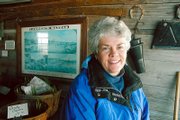 In addition to a summer mixer at various farms and businesses around the county, the network also annually coordinates and sponsors, with help from area businesses, the "Slice of Agriculture Program" at the Douglas County 4-H Fairgrounds for youths in the area to learn how food is produced.
At meetings, the network members also hear from guest speakers who talk about new techniques and trends.
The group also invites area legislators to talk about issues and concerns each year. They worked with State Rep. Tom Sloan, R-Lawrence, and the Kansas State Historical Society to help change a law that allowed farmers to more easily work with land that was closer to historically designated properties, Wood said.
In 2004, the group played host to a one-day project and session about exploring the future of agriculture in Douglas County. With the county being home to a growing urban community with few large farms, those in agriculture constantly revisit issues on how to grow profitable crops and other challenges, Wood said.
This year, the priority will be a membership drive. Participants don't have to be chamber members or pay any dues, Wood said. About 25 people attend at least part-time throughout the year, and the meetings average 12 to 15 people, which is a drop-off from when the group restarted in 2002.
"At the beginning, we just want to talk about what is our mission, what do we want to do and how we might be able to get more membership and people involved," Wood said. "Just to make sure that we are viable and meeting the needs of people who want to be involved and also of the chamber."
Copyright 2018 The Lawrence Journal-World. All rights reserved. This material may not be published, broadcast, rewritten or redistributed. We strive to uphold our values for every story published.