STILLWATER, OKLA. — Mario Boggan turned to Texas phenom Kevin Durant in the third overtime, smiled and told him, "Let's go, Showtime."
The fantastic finish that followed will go down in Oklahoma State history.
Boggan set career highs with 37 points and 20 rebounds and hit the game-winning three-pointer with 3.2 seconds left in the third overtime to lift the 12th-ranked Cowboys to a 105-103 victory over No. 21 Texas on Tuesday night.
"When it left my hand, I knew it was going to go in. It felt like it was going in," said Boggan, a senior forward who is 6-for-37 from three-point range this season. "Not to be just saying that, it actually felt good coming off my hand."
Durant, the Big 12's leading scorer and rebounder, put Texas on top with a three-point play with 10.5 seconds left, but there was still time for Boggan.
He took the ensuing inbounds pass near midcourt and fought through defenders to launch a three from the left wing. He fell to the floor and was joined by celebrating teammates after Texas' A.J. Abrams was called for traveling with 0.2 seconds left to clinch the win for the Cowboys.
"Mario's performance was, I thought, the best I've ever seen," Oklahoma State coach Sean Sutton said.
JamesOn Curry added 28 points and nine rebounds, Terrel Harris scored 16 points and Byron Eaton had 11 for Oklahoma State (16-2, 2-1 Big 12), which also won a double-overtime game against Pittsburgh earlier this season. Before Tuesday's win, Oklahoma State had lost its last seven games when a buzzer-beater was involved.
"This is our year, man," Boggan said. "Last year, it was the other way. This year, it's this way. But we work hard for it."
Durant, a freshman, tied his career best with 37 points and had 12 rebounds for the Longhorns (13-4, 3-1). D.J. Augustin added 19 points, Justin Mason had 18, Abrams 13 and Damion James had 10 points and 11 rebounds.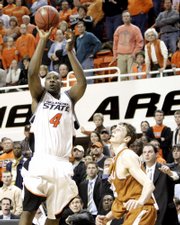 Oklahoma State scored the first five points of the third overtime but Texas tied the game at 100 on Connor Atchley's three-pointer from the left corner.
Curry followed with two free throws to make it 102-100 and the teams both had empty possessions before Texas got the ball with 18 seconds to play.
Abrams drove the lane, and Durant was able to grab his missed runner and put it back while getting fouled by David Monds. He stepped to the line and drilled his free throw to give Texas the short-lived lead.
Fans rushed the court after the game finally ended - a rare sight at Gallagher-Iba Arena, where the Cowboys rarely lose.
"I don't know if I'll ever be involved in another one like that," Texas coach Rick Barnes said. "We got down and kept digging ourselves a hole, but we worked our way back in it and they had the ball at the last and they made the last play."
What was the difference?
"It's toughness, man. It's all about loving the game," Boggan said. "That's all it is, wanting your team to win, being competitive."
By the end, Oklahoma State had lost two starters to foul trouble and had another player, Kenny Cooper, sidelined by a stomach virus. That left walk-on Tyler Hatch playing throughout the overtimes.
"In this building, I always believe that we can do anything," Sutton said.
Even Sutton was ailing. He slipped and fell on the ice a night earlier, and had to be held up by assistants late in regulation.
"Towards the end, it felt like there was a knife stuck in my back. I don't think I was going to pass out," Sutton said. "The pain was pretty bad, but I'm doing better now."
Copyright 2018 The Associated Press. All rights reserved. This material may not be published, broadcast, rewritten or redistributed. We strive to uphold our values for every story published.