No doubt Martin Luther King Jr. was a great man - but the civil rights movement needed more than just one person to succeed.
"It was truly a people's movement," Diane Nash said Monday night at the Lied Center.
Nash should know. For more than four decades, Nash has been an activist and leader in the civil rights and peace movements, spending years alongside King and other leaders as civil rights matured from sit-ins to federal law.
But during the city's annual Dr. Martin Luther King Jr. Holiday Observance, Nash told the crowd at the Lied Center that contentious issues today - war, poverty, crime and violence - all could use the kind of peaceful disobedience that she and other activists practiced in the late 1950s and early '60s.
The theme of this year's celebration in Lawrence was "Ordinary People Can Make a Difference."
When remembering the nonviolent resistance King practiced, Nash said "it's equally important to remember the hundreds of thousands of people who participated in the movement."
And although Nash detailed to the crowd her nonviolent philosophy - something she called "Agapic Energy," or energy from brotherly love - making such a movement happen again would involve ordinary people.
There weren't many of those in the Lied Center Monday.
Between the cold weather, the slick roads and the basketball game down the street, only about 100 people showed up for the annual celebration - likely one of the smallest crowds in its 22-year history.
Before the program began, the Rev. Leo Barbee, who served as the master of ceremonies, asked the sparse crowd to move up to the front.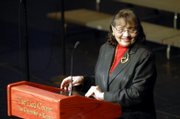 The night featured several speakers, including Kansas University Chancellor Robert Hemenway, who said King was in many ways a teacher.
"He taught us how to change the world, how to stand for justice," Hemenway said.
State Rep. Barbara Ballard, D-Lawrence, spoke at the ceremony, as she does nearly every year. She too noticed the small crowd and congratulated them on showing up even with all of the reasons to stay home.
"Nothing can keep you away if you really want to honor, to participate - if you really believe," Ballard said.
Lawrence Mayor Mike Amyx and Lawrence school district Superintendent Randy Weseman also spoke at the event. Amyx, noticing the size of the crowd, said that honoring the memory of King was important, no matter how many people showed up.
"I want to commend each of you for braving the cold and a little bit of snow," Amyx said before Nash spoke. "It's important to honor the life of Dr. Martin Luther King."
Then, Amyx read from the City Commission's proclamation creating "Martin Luther King Jr." week at last Tuesday's commission meeting.
"It is 2007," Amyx read. "It's time for ordinary people to become involved."
Copyright 2018 The Lawrence Journal-World. All rights reserved. This material may not be published, broadcast, rewritten or redistributed. We strive to uphold our values for every story published.