The frequent sounds of gunshots, explosives and even helicopters are trying the patience of people who live close to the Lawrence Fraternal Order of Police lodge near Lone Star Lake.
"It's a lot of noise," said Tim Coldsnow.
The noise, more suited to a war zone than the rural, wooded terrain of southwestern Douglas County, is almost a daily occurrence and can sometimes be heard at night, on weekends and even holidays, neighbors say.
"That's just the way it has been for a long time," said Scott Mesler, president of the Lone Star Neighbors Association.
Mesler has lived near the 100-acre FOP Lodge No. 2 for 17 years. He and other longtime neighbors said they understand the need for police to train and qualify with various weapons. They say they expect to hear gunshots, but during the past several years, the frequency of the noise and related other activities has increased.
Coldsnow bought his property more than a year ago and is preparing a site for a house. He and his family were at the site on Easter Sunday last year when gunfire could be heard after dark. Coldsnow later called Douglas County Administrator Craig Weinaug and inquired about any permits the FOP might have for using its firing range.
No records of any permits were found. The FOP purchased the lodge about 40 years ago.
In the months since Coldsnow's call, Weinaug has met with some Lone Star residents and FOP representatives to see whether there is a compromise that could be worked out concerning the times shooting and other training takes place. So far, the two sides haven't met.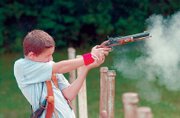 "We just want to be good neighbors ourselves and work something out with them," Mesler said. "We want to come to some sort of amicable compromise."
Coldsnow agreed. "We don't by any means want it to close," he said of the lodge.
FOP President Scott Ferris declined to discuss the complaints and referred questions to the organization's attorney, Price Banks. Banks declined to comment. Ferris and Banks also would not comment on what type of activities take place at the lodge.
In addition to hearing shooting, neighbors say they have seen military-type helicopters land and take off from the lodge grounds.
The Lone Star association has about 40 members and was formed about two years ago. Not all members are necessarily bothered by the noise, but at least 20 have attended two recent meetings to discuss the FOP issue, members said.
The Lawrence FOP is more than 50 years old. Its members include more than just officers with the Lawrence Police Department. Its Web site, www.lawrencefop.org, lists its leaders and shows that some belong to other law enforcement agencies, including the Kansas University Public Safety Office, Kansas Highway Patrol and the Kansas Bureau of Investigation. Ferris, the president, is a KBI agent.
Douglas County Sheriff's officers also use the lodge grounds.
The FOP is a fraternal organization. In addition to a firing range, the Web site says it also has a trap shoot house, lodge building, children's playground and a newly constructed shelter house.
The lodge has been the site of nonpolice activities that include gatherings of the Washington Creek Muzzleloaders, a black powder gun club that has staged events there.
Research needs to be done to determine whether the FOP lodge should have permits or zoning approval, Weinaug said. At some point, county commissioners may have to take up the issue, he said.
"While it isn't owned by the county, we are part of its use as a training facility," Weinaug said. "My hope is the neighborhood, the county and the FOP can meet the needs of all three parties."
Copyright 2018 The Lawrence Journal-World. All rights reserved. This material may not be published, broadcast, rewritten or redistributed. We strive to uphold our values for every story published.