Baltimore — Peyton Manning couldn't get Indianapolis into the end zone and, for once, it didn't matter.
That's because Adam Vinatieri provided the Colts with all the offense they needed to advance to the AFC championship game.
Signed during the offseason specifically for his playoff experience, Vinatieri kicked five field goals Saturday to put his name in the NFL record book and carry Indianapolis past the Baltimore Ravens, 15-6.
"Adam's been exceptional all year," Colts coach Tony Dungy said. "You just feel like you're going to make it every time when he goes out there. In games like this, it's necessary."
Although unspectacular, Manning was efficient enough to make up for some of his previous playoff failures and keep alive his hope of playing in the Super Bowl for the first time. All he needed to do was get the Colts close enough for Vinatieri, who did the rest.
It was only the fourth playoff game in NFL history - and first since 1979 - that neither team scored a touchdown.
Vinatieri won two Super Bowls with late field goals and scored 117 points in the postseason for New England. He was signed by Indianapolis as a free agent to replace Mike Vanderjagt, who missed a 46-yard field goal with 17 seconds left last season in the Colts' 21-18 playoff loss to Pittsburgh.
Vinatieri justified the acquisition with a flawless performance against the Ravens, connecting on field goal tries of 23, 42, 51, 48 and 35 yards. The fourth kick gave him an NFL-record 33 career postseason field goals.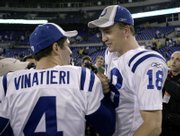 "Baltimore is the No. 1 defense in the league. Points are at a premium with them," Vinatieri said. "It's hard to score on those guys. The way our defense played - they stepped up and kept them out of the end zone the whole time - sometimes you win like that."
Indianapolis (14-4) never trailed in eliminating the No. 2-seeded Ravens (13-4), who were coming off a first-round bye and poised to exact a measure of revenge against the franchise that broke the hearts of Baltimore fans by sneaking out of the city to Indianapolis in March 1984.
"This football team is as disappointed as our fans are, which is matched tenfold by the players," Ravens coach Brian Billick said. "(The fans) were deserving of better than that, but it just wasn't going to happen and we will move forward now."
Not until next year. The third-seeded Colts, however, will next face the winner of today's game between San Diego and New England. If the Patriots win, the game will be in Indianapolis.
Vinatieri, who kicked three field goals last week against Kansas City, broke the mark of 32 held by Gary Anderson. The record-setting kick came with 10:57 left in the third quarter and put the Colts ahead 12-3.
Copyright 2017 The Associated Press. All rights reserved. This material may not be published, broadcast, rewritten or redistributed. We strive to uphold our values for every story published.