When the weather outside gets frightful, why not clean the dreaded basement?
After stashing stuff there for months - or, let's be honest, decades - basements often present an overwhelming challenge. For most of us, they are THE last room to clean.
"Everything you don't know what to do with ends up in your basement," says Karen DeClark, who runs KD Organizing, a Sterling Heights, Mich., professional organization company.
To help, we consulted DeClark and three other pros who sort, clean and redecorate for a living.
Ready to descend? Put on your work clothes, grab some trash bags and let's get going.
The strategy
Decide on how you would like to use portions of your basement. A crafts area? A home office? A play area? A home entertainment spot?
Basements are "a whole, extra room your family can use," says Shelley Wagner, whose Grosse Pointe Park, Mich., firm, Set the Stage, helps people get their homes ready for sale, a growing field called staging.
Get help
To find someone in your area: National Association of Professional Organizers, www.napo.net, 847-375-4746.
Costs
Vary with job and time required. Some charge an hourly rate, such as $50. Others charge for a minimum number of hours, such as $250 for a five-hour session. Some offer a free consultation; others charge for a needs assessment, listing problems and solutions.
Draw up a list of problems, says Linda Holland, a Rochester Hills, Mich., professional organizer who started Simplicity Organizing. Once defined, solutions are easier to find, she says.
Typical basement dilemmas: Poor lighting. No sorting shelf in laundry. Unsightly old furnace. Endless piles of kids' artwork, toys and clothes.
Coaxing others to help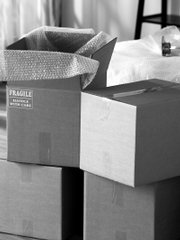 Ask for help with the basement project as a gift for your birthday, Mother's or Father's Day or holiday.
Tell everyone they must get rid of something, even if it's a few piles of books or a stack of records and tapes. For adult children no longer at home, declare an amnesty period for them to pick up whatever they want. Set a deadline and stick to it.
Divide and conquer
Pick a large area of the basement, and make three piles: Stay, trash, donate. Start in a corner of the basement, and work your way around. Be ruthless and not too sentimental. Like clothing, "unless you have used it in a year, pitch it, unless it's really memorable," Wagner says.
Never ever
The basement and attic are NOT places to store: fur and leather, wood furniture, stuffed toys, photographs, books, formal dresses and records, tapes and CDs - items most susceptible to temperature changes, moisture damage and pests.
What stays
Holiday decorations, stored in labeled, clear-plastic containers.
Sports paraphernalia you use, hung on a pegboard.
Some of your children's artwork. Gina Miles, a St. Clair Shores professional organizer with HereToHelpOrganize, recommends purchasing a large artist's accordion-style portfolio for the most treasured stuff and tossing the rest. Put toys in clear labeled containers.
What goes
Books you thought you couldn't part with. Do you really need your college textbooks and all those paperbacks?
Water-damaged items.
Clothing your child used to wear. "There's no reason to save kids' clothes," DeClark says. Consider making a quilt of your child's favorite sports shirts or other items, she recommends. Don't sew? Find a local sewing or quilting guild that might take on the job.
Ask your city's refuse department how to dispose of hazardous waste, including old paint and computer components.
Storage know-how
Put clothing in hanging garment bags, away from the light. Before wearing, put the clothes in the dryer for up to 10 minutes, with fabric freshener.
Hang luggage on wall-mounted storage racks or industrial hooks.
Paperwork
Get a filing cabinet or paper organization system. DeClark recommends the Freedom Filer, www.freedomfiler.com, which has a self-purging system to help throw out old bills and items every two years. Prices begin at $139.95. It's worth the investment, she swears.
Laundry
Put up a shelf for sorting laundry. Or if you aren't handy and have the space, buy two saw horses, nail plywood to the top and paint it a cheerful color, says Holland.
Use a stacking cabinet near the washer and dryer to hold your cleaning supplies. Put a dish on it for spare change, and place a trashcan nearby for items that try to work their way into the wash as well as for lint.
Mildew be gone
Run a dehumidifier.
Spray walls with mildew killer, and consider covering brick or stone walls with moisture-blocking paint. To make a homemade mildew remover, mix 1 cup white vinegar, 1 cup dishwashing liquid and 1/2 cup of salt, according to "Dad's Own Housekeeping Book" by David Bowers Workman; $10.95 at www.workman.com.
Reward yourself
Create a corner for your projects.
Repaint a table and cover it with a cheerful cloth. Add a lamp. Put in a comfy chair and a book.
Who said the basement had to be out of sight, out of mind?
Copyright 2018 The Lawrence Journal-World. All rights reserved. This material may not be published, broadcast, rewritten or redistributed. We strive to uphold our values for every story published.