Maybe volunteering sounds like a New Year's project you'd like to try, but you're not sure where to begin or how much to commit.
Here's a partial list of volunteering opportunities in Douglas County compiled by Margaret Perkins-McGuinness of the Roger Hill Volunteer Center . If you're not sure about your own schedule, note that some of the options do not call for a long-term commitment.
You might give some thought to your other 2007 goals, too. Want to meet new people? Many of these opportunities let you interact with those with similar interests. What about increased physical activity? You could walk dogs for the Lawrence Humane Society or take a Meals on Wheels delivery route.
Volunteering is good for the community and your well-being, too. Contact one of these agencies today, or see more opportunities at www.rhvc.org.
Working with children
Ballard Community Center
Position title: Classroom assistants
Phone: 842-0729
Volunteers who love children are welcome to read to preschool children before nap time, assist with classroom activities, help during the holidays or make donations to the center.
Big Brothers Big Sisters of Douglas County
Position title: Big Brothers and Big Sisters
Phone: 843-7359
Being a Big Brother or Big Sister is about sharing simple, magical moments with a child; opening doors and widening horizons on the world. Volunteers are matched to a child based on mutual interests. Prospective volunteers must attend a volunteer orientation, held at the office, located at 1525 W. Sixth St., Suite A, at 5:15 p.m. Tuesdays and noon Wednesdays.
Boys and Girls Club
Position title: Youth assistants
Phone: 841-5672
Volunteers can help in many ways with assisting staff with the afterschool and summer programs as well as building and ground maintenance.
Court Appointed Special Advocates
Position title: Child advocates
Phone: 832-5172
Volunteers advocate for the best interests of abused and neglected children under the protection of the juvenile court.
Advocates spend one-on-one time with the child to establish trust and support, investigate facts about a child's circumstances through interviews and visits, monitor court-ordered services to child and family, and make recommendations to the court via written court report. Volunteers must be 21 years of age, participate in training and commit to a minimum of one-year's service.
All applicants must submit to a fingerprint check and child abuse/neglect registry check.
Citizen Review Board of Douglas County
Position title: CRB Board volunteers
Phone: 832-5219
Volunteers meet once per month and provide community input by reviewing cases involving local children in foster care or the juvenile justice system, and make recommendations to the presiding judge regarding further actions on the cases.
Volunteers are given training and go through an application process that includes a background check and references. An oath of confidentiality is required. Volunteers are sworn in by the judge.
First Step House
Position title: Child care volunteer
Phone: 843-9262
Volunteers are needed to provide care and entertain children while mothers participate in group sessions, 6 p.m.- 8 p.m. Monday through Thursday. Time commitment may be flexible to suit volunteer needs. Additional opportunities are available once per month to care for children while mothers celebrate peers who have successfully completed treatment.
Lawrence Arts Center
Position title: Teacher's assistant
Phone: 843-2787
Volunteers are needed to assist art teachers in the classroom with students in kindergarten through fifth grade and help to set up and clean up before and after classes. Volunteers must be 15 years of age, enjoy children and the arts.
Lawrence Arts Center Preschool
Position title: Preschool classroom volunteer
Phone: 843-2787
Seeking volunteers who love to read to children and participate in art activities, and help to clean up and set up classrooms. Children ages 3-5 attend morning and afternoon sessions at the preschool. Volunteers will need to have a TB test and complete a form for the Kansas Bureau of Investigation.
Lawrence School District
Position title: Program assistants
Phone: 832-5008 ext. 636
Afterschool learning programs are located at most Lawrence elementary schools. Volunteers assist one or more afternoons per week, 1-2 hours, with structured activities, assisting with homework or mentoring a student. Afterschool programs run five days a week, typically from dismissal at 3 p.m. to 6 p.m. This is great way to connect with young people and is perfect for senior volunteers, individually or in groups.
Arts & literacy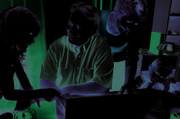 Adult Learning Center
Position title: Tutor
Phone: 832-5960
The Adult Learning Center assists people to study for the ABE (Adult Basic Education) certificate or the GED. Volunteer tutors are needed to assist with literacy skills such as reading, writing and math.
Audio Reader
Position title: Readers
Phone: 864-4600
Volunteer readers are sought for a radio program for the visually impaired. Volunteers record various publications live and on tape for later programming. To learn more about volunteer positions and recording times, contact Audio Reader. A reading audition is required.
Douglas County Jail
Position title: Literacy volunteers
Phone: 830-1055
Volunteers assist medium- and minimum-security inmates through a variety of literacy-related positions, including librarians, writing workshop instructors, coordination of an annual publication of inmates' written work, and collection and delivery of donated books and magazines for inmates.
Lawrence-Douglas County Housing Authority
Position title: Adult tutor
Phone: 842-1533
Volunteers are needed to work with adults on reading, basic math, English as a second language and some algebra.
Watkins Community Museum of History
Position title: Museum volunteer
Phone: 841-4109
Volunteers support the museum through a wide variety of activities, including greeting guests, assisting with archiving and collections, coordinating exhibits, and by gathering and recording historical information about Douglas County.
Health & Counseling
Lawrence Memorial Hospital
Position title: Hospital volunteer
Phone: 840-3141
Volunteers are needed to assist in patient care areas. Duties include stocking supplies, cleaning equipment, transporting patients by wheelchair, providing refreshments to family members, etc. Volunteer applicants must have a TB test and submit to a criminal background check before being scheduled. Visit LMH.org for a full listing of available volunteer positions.
GaDuGi SafeCenter/Rape Victim Survivor Services
Position title: RVSS volunteer advocate
Phone: 843-8985
RVSS, the direct service component of GaDuGi SafeCenter, depends on volunteer advocates to provide hospital/police/court accompaniment services,
supportive listening and advocacy, and personal response to crisis calls for survivors of sexual violence. Training is provided.
Heartland Medical Clinic
Position title: Office and medical assistance
Phone: 841-7297
Administrative volunteers are needed to file, answer the phone, take messages and pull patient charts. Volunteers may assist with medical services by checking in patients, getting medications and assisting doctors with X-rays, helping with splints, and more.
Headquarters Counseling Center
Position title: Volunteer counselors
Phone: 841-2345
Volunteers can assist people of all ages who call or come to the center for counseling, support or information. Counseling work includes responding to calls on the Phone A Friend line for elementary school-aged children in Douglas County, the National Hopeline Network suicide prevention line, with most calls to this center coming from underserved areas of Kansas, as well as the counseling and information lines of the center. Complete training is offered to volunteers twice each year. The next training will be offered in February 2007. Please call for more information.
Health Care Access
Position title: Clinic volunteers
Phone: 841-5760
Clinical assistants can be trained to take vital signs and check patients into the clinic. They can pick up and deliver supplies on as-needed basis with schedule flexibility. MDs and DOs in family practice can volunteer their services per their schedule by either seeing our patients without charge at their own offices or on-site at our clinic. Pharmacists, physical therapists, registered dieticians and other health professionals can donate their services.
Senior citizen support
Douglas County Senior Services
Position title: Senior services volunteers
Phone: 842-0543
Volunteers are needed for a wide range of positions to provide support to senior citizens and the center. Volunteers may deliver meals to homebound seniors, become a friendly visitor, train to become a volunteer health insurance information counselor, or clip "coupons for caring" to help raise funds for agency services.
Lawrence Meals on Wheels
Position title: Meal delivery volunteers
Phone: 979-1440
Meals on Wheels drivers usually volunteer one day each week, picking up meals at Lawrence Memorial Hospital, delivering to about six homebound seniors. Each route takes about 45 minutes. Volunteers should be 18 and older or volunteer with a parent or adult.
Jubilee Cafe
Position title: Servers, cooks
Phone: 864-4073
Volunteers are needed to serve customers, cook meals, expedite orders or clean up at the Jubilee Cafe. Volunteers are needed from 6 a.m. to 9 a.m. Tuesdays and Fridays year-round. The Jubilee Cafe is located at 946 Vt. at the First United Methodist Church. Volunteers are especially needed when students are on breaks.
Lawrence Interdenominational Nutrition Kitchen (LINK)
Position title: Meal assistants
Phone: 843-0579
Volunteers help serve meals and clean up the kitchen and dining room after meals on Saturdays, 12:30 p.m.- 3 p.m.
Working with animals
Lawrence Humane Society
Position title: Dog walker/cat socializer
Phone: 843-6835
Volunteers are needed to walk dogs and puppies and to socialize cats and kittens. The animals really enjoy the interaction. Volunteers must attend a brief training prior to volunteering. Following the training, each volunteer is welcome to assist anytime the Humane Society is open and need not sign up in advance. Please call to register for training.
Operation Wildlife
Position title: Wildlife caretakers
Phone: (913) 908-4252
On-the-job training is provided to volunteers, ages 16 and older, who have compassion for orphaned and injured animals. The facility needs assistance with animal care, and some rescue may be involved. are available as well.
Homeless services
Lawrence Community Shelter
Position title: Night shelter volunteers/agency support
Phone: 832-8864
Night shelter volunteers will assist trained monitors during the night or early morning, including helping with the preparation of an evening meal or breakfast. Training is provided. Agency support volunteers the shelter with daily operations and the Drop In Shop, which stocks items needed by shelter guests.
Copyright 2018 The Lawrence Journal-World. All rights reserved. This material may not be published, broadcast, rewritten or redistributed. We strive to uphold our values for every story published.