The temperature in Lawrence plummeted from a record high 67 degrees Thursday afternoon to a wind chill below zero and a low of 15 degrees Friday.
Precipitation also came in the forms of sleet, snow flurries, freezing drizzle, freezing fog and ice Friday.
Lawrence was on the back edge of an ice storm, said 6News chief meteorologist Jennifer Schack, that was expected to leave several inches of ice in some parts of Kansas by the end of the weekend.
Transportation officials advised drivers to take caution today and Sunday. City utility crews began working around the clock Friday morning to spray a sand and salt mixture on arterial and collector streets, although the cold temperatures made it difficult, said Chuck Soules, Lawrence's director of public works.
"Obviously, the type of moisture occurring is more sleet and ice versus the snow, which does make it more difficult for us to treat," he said.
Forecasters said ice would be the major hazard throughout the weekend, but it will be mixed in with periods of snow today and Sunday. Possible sleet and snow accumulation could be 3 to 5 inches through Sunday evening, falling mainly Sunday mid-day, Schack said.
Photo Gallery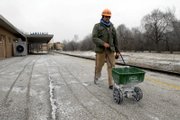 Wintry Weather
"The best suggestion is to try and plan on having a nice family day at home," Soules said of the weekend.
Douglas County emergency dispatchers said Friday afternoon that law enforcement officials had not handled any more accident reports than normal.
Westar Energy crews restored power to more than 1,500 customers in southern Lawrence on Friday afternoon when a truck attempted to make a turn in the 2100 block of Stewart Drive and struck a utility pole. No other power outages were reported Friday.
To report a power outage to Westar during the weekend, call (800) 544-4857. For road conditions through the Kansas Department of Transportation call 511 or visit http://511.ksdot.org.
The icy weather was treacherous Friday across the central part of the country as the National Weather Service issued an Ice Storm Warning for a path from Texas, Oklahoma and Missouri to Illinois.
In Missouri, a 16-year-old boy riding to school Friday was killed in the Kansas City suburb of Lee's Summit when the pickup truck he was in slid on ice and overturned, police said. Later Friday morning, an 81-year-old man died after his sports utility vehicle slid off a highway in the suburb of Sugar Creek and overturned, police said.
In Oklahoma City, a lumber truck flipped on an icy Interstate 44 exit ramp Friday, killing the driver, the state highway patrol said.
Utility crews were bracing for another round of bad weather as they worked to restore power to irrigation systems, stock wells and oil wells, which sustained significant damage during back-to-back blizzards a few weeks ago. In the Oklahoma Panhandle, power was restored late Thursday to the final 15 homes hit previously, Tri-County Electric Cooperative reported.
- The Associated Press contributed information to this story.
Copyright 2018 The Lawrence Journal-World. All rights reserved. This material may not be published, broadcast, rewritten or redistributed. We strive to uphold our values for every story published.