Despite having neither team and only one individual (Jessica Wyatt) reach state last year, Lawrence High bowling has lofty expectations for 2007.
"For both the boys and the girls team," LHS coach Greg Farley said, "the primary goal is to qualify for state."
The Lions will feature a deep squad with 13 girls (Kassie Birch, Tiffany Demaline, Andrea Gilliam, Alexah Gudenkauf, Sam Hayes, Malory Hughes-Pfeifer, Lauren Kelly, Sam Pedraza, Dequesne Sprow, Becca Stack, Nicole Stallings, Tiffany Williams and Wyatt) and 13 boys (Tyler Bailey, Daniel Chandra, Nick Hanna, Olson Kilmer, Tanner Kilmer, Zhennan Liu, Mark Mercer, Ryan Miller, Jacob Pool, Josh Russell, Jerry Wang, Matt Weber and Ben Wyatt).
On the girls side, Wyatt, Sprow, a former Free State bowler, and Demaline, the state champion as a freshman, should guide the squad. The team also has talented newcomers, including Hays, a golfing and softball star, and Kelly, a tennis and softball star.
"We've got a couple girls that are out for the first time," Farley said. "They're very good athletes, and they're just picking up bowling in the last couple of months, and I look for them to get better in a hurry."
Although the boys should receive contributions from freshmen Wyatt and Tanner Kilmer, the Lions will lean on seniors Mercer, Chandra and Olson Kilmer, who lettered last year.
"They bring some maturity and leadership we definitely need," Farley said.
The Lions team includes some family ties. Jessica and Ben Wyatt are siblings, and their father, Bryan, serves as an assistant coach. Olson and Tanner Kilmer are brothers as well. Having such a strong lineage comes as no surprise to Farley.
"If one person is involved in it and starts excelling," Farley said, "it seems as if the rest of the family gets involved as well."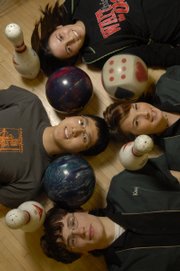 Free State High's boys qualified for state last year, finishing second, but only Melissa Burnside reached state as an individual on the girls' side.
Firebirds coach Anita Carlson has raised the ante for both teams, saying the boys have the talent for a top-three finish and the girls can make a run to state.
The boys roster features one more bowler than LHS with 14 (Arion Silmon, Michael Hurtig, Kenny Altman, Rob Wagner, Werner Nelson, Tyler Kring, Brendan Desetti, Connor Kring, Joel Hall, Nick Kennedy, Joseph Vannicola, Evan Taylor, Josh Herschell and Aaron Bernhardt).
"This group is strong physically and mentally," Carlson said.
Altman, a senior, finished the 2006 season with a 205 score and has displayed leadership during both tryouts and practices. Despite Wagner's freshman standing, he has bowled competitively from a young age, and Carlson expects him to contribute significantly.
"He'll be one to watch," Carlson said.
The 13 girls (Shae Stringer, Amelia Firns-Hubert, Sarah Nichols, Emily Foerschler, Burnside, Kali Conrad, Ashleigh Armstrong, Katy Hoffman, Lanae Spencer, Jayme Schoneweis, Cora Bloom, Becky Gladman and Weatherly Butler) already have improved their pin averages by 16 points from last year, giving Carlson confidence in her squad.
"The girls have an excellent chance of making a state berth," she said.
Armstrong and Burnside, who notched a 160 last year and whom Carlson said could better that score by 10 to 15 pins, should guide the girls team. But such talk of state would have seemed foolhardy at the start of last year.
"We were like the Jamaican bobsled team for a while," Carlson said. "We worked really hard."
Faced with several newcomers last year, the coaching staff improved the girls from the mid-90s averages at season's start to mid-120s by emphasizing fundamentals and positive reinforcement. The girls responded diligently.
"They had a really great, positive season," Carlson said. "They're really starting on a positive note."
Copyright 2018 The Lawrence Journal-World. All rights reserved. This material may not be published, broadcast, rewritten or redistributed. We strive to uphold our values for every story published.