Photo Gallery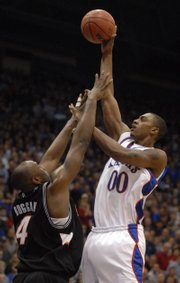 KU vs OSU
There's really no deep, philosophical explanation why Sasha Kaun's best game yet of his junior season came in Kansas University's Big 12 opener.
Sure, he'll tell you his practices have been better. Plus, it doesn't hurt when coaches reinforce that repeatedly.
But, really, it simply was his turn.
Julian Wright had 23 points in a 80-69 victory over Rhode Island on Dec. 30, then freshman Darrell Arthur poured in 17 Sunday in a road victory at South Carolina.
Wednesday, Kaun was the third different KU big man to have his day in three games, with a season-high 16 points - 14 of which came in an explosive KU first half - in the Jayhawks' 87-57 flogging of the No. 9 Cowboys.
"It's one of our strengths," Kaun said of the frontcourt depth KU brandished at will. "If a guy's not having a good game, there's somebody who can step up and fill out their points. I think we have great players on the perimeter and in the post. Just a great thing to have."
While Kaun took the humble approach and let out a few deep giggles talking about his performance, it was loud enough to leave an impression OSU was sure not to forget.
With the Cowboys' leading scorer, forward Mario Boggan, struggling to find his spots on the floor, Kaun meshed with KU's quickly penetrating guards to hit six of seven close-range looks in the first 20 minutes. Four of his seven successful tries by the end of the night were dunks. The most emphatic was the game's first field goal, when he nearly clunked his head on the bottom of the backboard while swooping in from left to right on the baseline.
Audio Clips
2006-07 Jan. 10 KU-OSU Hoops
"The game plan was to give their big guys something to guard, but we got a couple of easy baskets early off of screen plays, and then when Sasha had a two- to three-minute stretch where he kind of took over, then we were making a conscious effort to go inside because Boggan had two fouls," KU coach Bill Self said.
Darnell Jackson was KU's other post to score in double digits, with 10 points Wednesday following back-to-back scoreless games.
Kaun, though, was clicking with freshman Sherron Collins yet again. Against Rhode Island and again Wednesday night, Kaun benefited from the stocky-yet-quick point guard slipping into the post and releasing darts around defenders.
"He has a great vision," Kaun said of Collins. "One possession, when it was one of my first dunks, he dished me the ball, and I didn't even know he saw me. I was screaming for him."
It was the third time in KU's last four outings Collins has registered at least five assists. Prior to the first of those efforts, which included 12 regular-season contests, he'd hit a total of four in a game just twice.
"That's something that develops through practice, but there's a lot of people (to click with)," Collins said. "I'm just trying to penetrate and find the open guy. Sasha was just more open today than the other guys."
Copyright 2018 The Lawrence Journal-World. All rights reserved. This material may not be published, broadcast, rewritten or redistributed. We strive to uphold our values for every story published.