Shirley Brown took off her coat, getting ready for what was something of a milestone event.
The East Lawrence great-grandmother was attending her 19th annual Martin Luther King Jr. Chili Feed, one of many events in Lawrence commemorating the civil rights hero. This year's chili feed was Tuesday night at New York School, 936 N.Y.
"It's marvelous," said Brown, an admirer of King. "He was a people's person. All nationalities, races and religion - we're all God's children. That was his belief."
Brown and her family were among some 200 people who attended the event, said Nancy DeGarmo, New York's principal.
"Nineteen years ago they decided it was a celebration that needed to be held to celebrate the diversity of our school and our East Lawrence neighborhood," DeGarmo said.
The program included step dancers and the Ninth Street Baptist Church dancers. Those coming into the school also had a chance to see posters honoring King and others involved in the civil rights movement.
"It's a community effort to put this thing together, not just New York," DeGarmo said.
Sandee Crowther, who chaired the Martin Luther King Jr. Education Event Committee, said Lawrence school district students will get a holiday Monday for Martin Luther King Jr. Day, so events were going on at various schools this week.
"A lot of schools do their own assemblies and events and study things in class," Crowther said. "We try not to have it be just a one-day affair."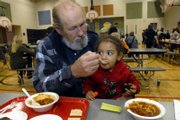 The main event in the district will happen at 6:30 p.m. Thursday at South Junior High School's theater.
That program, "Ordinary People Can Make a Difference," showcases community service projects at each of the city's public schools. Students or small groups of students will come on stage to explain their projects.
"I just know from past years it makes them feel good to talk about what they've done," said Crowther, the district's executive director of planning and program improvement.
The projects include fundraising drives, collecting cans or food donations, helping with storm cleanup and even doing biographical interviews with senior citizens.
The program also features the Hillcrest Jazz Choir and the Quail Run Sixth-Grade Band.
The Rev. William Dulin, president of the Lawrence Ecumenical Fellowship, will give closing remarks.
Another event planned at South will be Friday, when film director Kevin Willmott, a Kansas University assistant professor of film studies, will speak.
David Lawrence, a health teacher at South who is organizing that program, said the event, which begins at 2:10 p.m. in South's gymnasium, will include the winner of an essay contest on "Ordinary People Can Make a Difference." The winner, Lacey Goodin, an eighth-grader, will read her essay, "Changing of the World."
Two other South students will read their own poetry: Lawrence Hubbard, a ninth-grader, will read an untitled poem and Ethan Yocum, a ninth-grader, will read his poem, "Running," Lawrence said.
Copyright 2018 The Lawrence Journal-World. All rights reserved. This material may not be published, broadcast, rewritten or redistributed. We strive to uphold our values for every story published.