New York — Tony Gwynn and Cal Ripken Jr. will fall short of becoming the first unanimous Hall of Fame picks, and Mark McGwire doesn't figure to be anywhere close to the necessary 75 percent when 2007 voting is released today.
Paul Ladewski of the Daily Southtown in suburban Chicago wrote in a column Monday that he submitted a blank ballot because of doubts he had over performance-enhancing drugs in baseball.
"At this point, I don't have nearly enough information to make a value judgment of this magnitude. In particular, that concerns any player in the Steroids Era, which I consider to be the 1993-2004 period, give or a take a season," Ladewski wrote.
"This isn't to suggest that Gwynn or Ripken or the majority of the other eligible candidates padded his statistics with performance-enhancers and cheated the game, their predecessors and the fans in the process. ... But tell me, except for the players themselves, who can say what they put into their bodies over the years with any degree of certainty?"
Gwynn and Ripken likely will vie for the highest percentages ever in Hall voting. McGwire, also on the ballot for the first time, probably will draw only one in four votes, according to a November survey of about 20 percent of eligible voters taken by the Associated Press.
McGwire finished with 583 home runs, seventh on the career list, and hit 70 homers in 1998 to set the season record, a mark Barry Bonds broke three years later.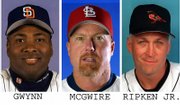 But many voters have said they won't select McGwire for baseball's highest honor until he answers questions about steroids use. McGwire's refusal to address his past during a 2005 congressional hearing damaged his reputation among many of the 10-year members of the Baseball Writers' Association of America who cast ballots.
"I think I would vote for him," Gwynn said. "I think I would vote for a lot of those guys who are considered to have done it."
Copyright 2018 The Associated Press. All rights reserved. This material may not be published, broadcast, rewritten or redistributed. We strive to uphold our values for every story published.